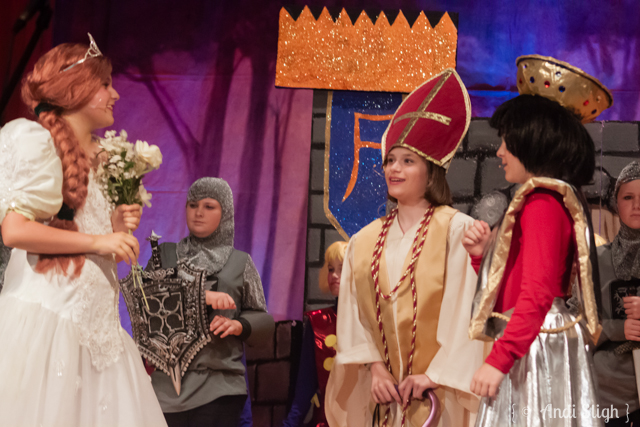 At long last, Shrek, Jr. the Musical arrived. After four months of biweekly practices and four nights of four-hour rehearsals last week, Mr. Andi, Nathan, my mother-in-law, and I hauled our cookies to the Mayberry Civic Center for the production. The cast was large and ranged in age from 4th grade through 8th grade.
Sarah Kate played the role of the bishop who is charged with marrying Fiona and Lord Farquaad – if you've ever seen the original Shrek movie or the stage musical, you know the wedding scene is the climactic moment near the end (read: we waited a really long time for her to appear). While we waited, I tried to enjoy the show (and it was surprisingly good, given that it was put on by a bunch of kids), but instead I kept seeing how much movement there was on stage – not just during the musical numbers, but in most every scene.
In short, I saw a lot of stuff Sarah Kate couldn't do – at least not well.
When her scene finally arrived, she strolled out with her cane (which wasn't a problem per se, but did frustrate me a little because no one had told me she'd be using it – had I known, she'd have had one that looked more bishop-y, or I'd at least have decorated hers to match her bishop outfit), spoke her lines flawlessly, then joined the rest of the cast for the rest of the scene.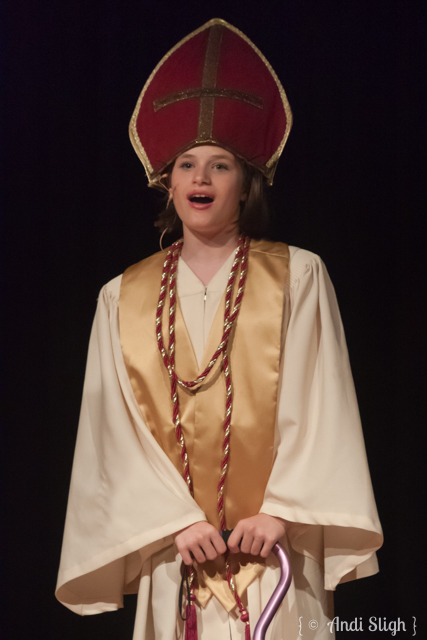 I don't think it bothered Sarah Kate at all that she wasn't on stage more, other than the practical matter of having to wear the robe and hat for over three hours each performance, and it didn't bother me that she had a small part. Oodles of kids didn't have lines, and as I told her when she first auditioned, There are no small parts, just small actors. In some ways, the role of the bishop was perfect for her.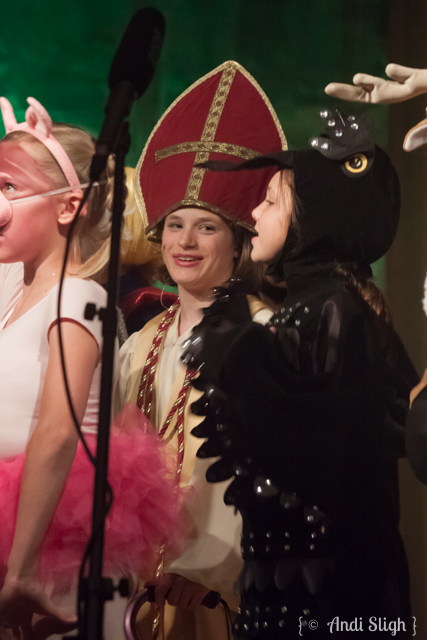 I've never done school field trips with Sarah Kate. I know there are moms who love them, but I never have. I've been able to use Nathan as an excuse to avoid a lot of them (No Siblings Allowed!), I've pulled the I-get-sick-on-charter-buses card (true) and among friends I joke around about how I only like my kids and a few others, not 30 or more in a group. There's at least a little truth in all of those excuses.
But the real reason I don't do field trips is because they're too painful.
We hit the ground running with both cerebral palsy and Down syndrome – I've spent countless hours researching, in therapy offices, working on speech and PT homework, and so on. I long ago accepted that both of my children will struggle in ways that most children don't, and I understand that the world is not built for either of them. I've said it here before: our philosophy has always been that we should prepare them for the world as it is, not as we wish it to be, and we will push them as far as they want to go in whatever activities they want to try.
But that doesn't mean I always enjoy these activities. It's easy to live our lives as a regular family and not think about CP or Down syndrome when we're at home, or visiting family, or having dinner out with friends. But when I see Sarah Kate in a group of a few dozen kids in a musical, or on a field trip with her class, or out on the softball field, I can't look away from CP. It's in my face, and along with it come the usual suspects… the what ifs.