As of today, I have over 35,000 image files in my photo library, which would become unwieldy without the right tools and process to keep them organized. A lot of those images were good straight off the camera, but many were not, so I also need the right tool to fix them (or at least salvage them as best I can) so that I don't lose the moment captured in the image.
I have used both Photoshop and Photoshop Elements, and for some tasks (like digital scrapbooking), I have to have them. But most of my day-to-day edits are done with Lightroom
, which I can not praise enough. It is, hands down, the best tool on the market for editing and organizing image files. Here's an example of edits done solely with Lightroom.
The selfie below of Mr. Andi and me on our cruise is horribly blown out. Our faces, clothes, the sky – all washed out – and the sparkling blue water is a dull gray. About the only good thing I can say about it is that my wrinkles aren't as visible.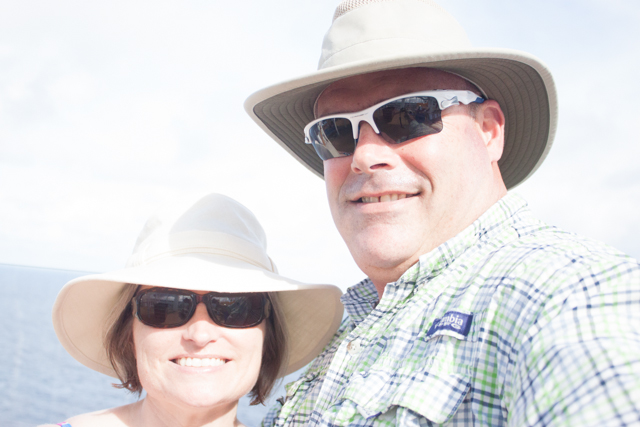 But it COULD have been a cute picture of us, if it had been exposed correctly (even though my wrinkles would have shown up a lot more!)
So I reduced the exposure, applied a few presets to make the blues pop and warm up our washed-out skin tones, brightened the shadows, darkened up the blown highlights, and darkened the edges just a little bit. It probably took me about five minutes total to edit the photo, and what I ended up with was this: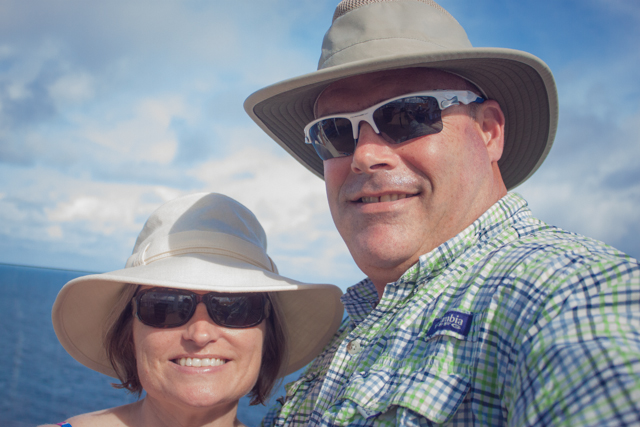 It's not perfect, and it certainly won't win any photo contest, but it saved the photo – and the moment. I could have taken a few more minutes to smooth out my wrinkles and add a touch of color to my lips, but what you see is what is me, so… I didn't.
Want to see another example? The photo I posted of Nathan in Monday's blog post is one of my favorite photos from 2015, and some folks might be tempted to assume that it turned out that way because he's cute and the setting was gorgeous. While both may be true 🙂 , the image I downloaded from the camera was a disaster. Here's the before and after, thanks to a few minutes in Adobe Lightroom: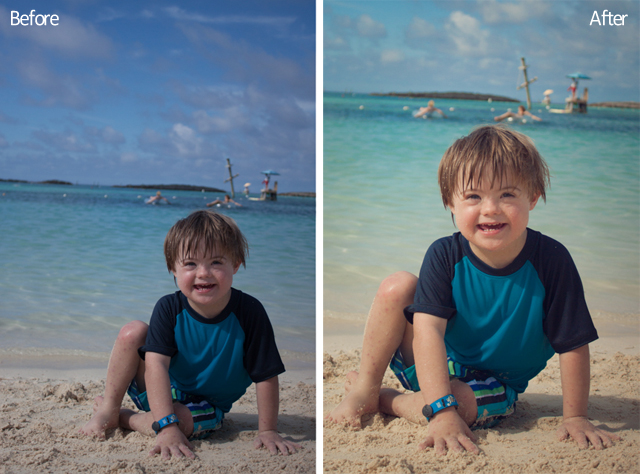 Photography is a learned skill, not a talent.
Sure, there are plenty of people who have a natural creative talent for photography. I don't have an artistic bone in my body, and I so envy them! But most of us just want to have quality photos that capture the moments that we treasure.
Our photos tell our stories in ways that our words sometimes fall short.
If you're ready to take your photos to the next level – especially if you'd like to try out my favorite non-camera photography tool, Adobe Lightroom
, then take a peek at The Ultimate Digital Photography Bundle (Intermediate Edition), which includes five ebooks JUST on Mastering Lightroom, as well as a number of other resources on black and white photography, making the best use of natural light, flash, food photography, textures, long exposures, and more.
The Ultimate Digital Photography Bundle (Intermediate Edition) also includes several bonus offers, worth almost $350 in total:
$20 gift certificate toward any SpinLight 360 Package
$15 gift certificate to Lightscoop (for pro-like photos with your built-in flash)
$15 gift certificate to Porteen Gear (where you can buy custom-made, stylish and functional camera bags and gear)
FREE choice of a premium video photography course from Craftsy.com (up to $50 value)
FREE three-month subscription to the Light Inspired Women's Photography Forum
FREE marketing set of your choice from the Seaside Creative collection ($75 value)
x4 FREE Volumes of Clarity Magazine – including video tutorials from top photography educators
FREE FX Photo Studio Pro PLUS Snapheal Pro software from MacPhun – which will help to give you a vast number of ultra-powerful adjustments for your photos (combined value $69.98)
Remember: The Ultimate Digital Photography Bundle (Intermediate Edition) is on sale for this week only – until Monday, June 29, 2015 at Midnight.
You can buy with complete confidence because you're covered by the Ultimate Bundles 30-day money-back guarantee. That means you have a full month to try out all the ebooks and video courses in the bundle, and if you don't think they justify the price or they weren't what you were hoping for, you can get a full refund.
Ready to get started? Go!

Disclosure: Both the links to the Ultimate Photography Bundles and the links to Adobe Lightroom are affiliate links. I never, ever, promote products that I don't believe in and am confident will benefit my readers.