I'm back! Mostly, anyway…
Thank you so much for your patience while I took a brief hiatus. My target is to get back onto my regular posting schedule of Tuesdays and Thursdays plus the snippets on Fridays, but I'm not going to beat myself up if it doesn't always work that way. It's a target because it's what I'm shooting for, not a goal or a promise. It was nice to have a break, but instead of fresh batteries I feel more like a cell phone that got plugged into the car charger to keep it from dying before making it to the destination.
Can you relate?
I'll get into some deeper "stuff" in my next post, but for now I thought I'd catch you up on what's been happening since we last spoke.
Up top is Red Nose Day at Nathan's preschool during the last week of school; he's goofing off with his teacher Mrs. Angie. Oh, how I will miss her next year! He's been with her for two years and was an absolute godsend for us. She is a nut in all the best ways (she's the one who loaned me the infamous Diva Pirate costume) and I felt both she and his speech teacher, Mrs. Melanie, were strong advocates for him at the end of year IEP meeting for the transition to The Big School next year.
Next on the Insta-list is Nathan splashing through Every. Single. Puddle. on the beach road down by the bay on the last day of school. Our kids get out early on the last day, which meant for him to go he'd only be there about two and a half hours. I decided he could skip and we'd walk the dogs down by the bay instead. I don't quite know what I was thinking, throwing away my last couple of hours of free time with both hands…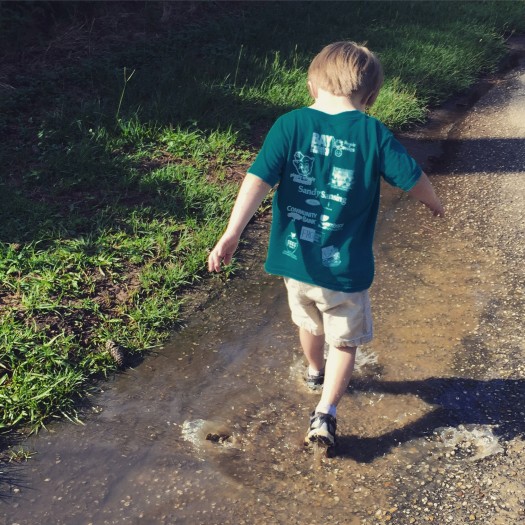 A few hours later, we picked Sissy up at school. Since they'll both be "moving up" next year – him to elementary school, her to middle – it was the last time (probably ever) that we would sit in the car blaring the tunes waiting for Sissy to emerge.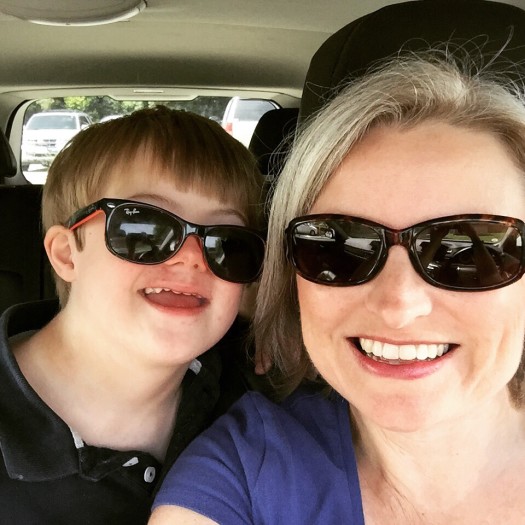 Last week we took Nathan to the optometrist.
The standard Down syndrome protocol suggests an eye exam every year, but the first two he had showed nothing and we weren't too fond of the pediatric opthalmologist we saw. The next best option was a pretty far drive from our house and honestly we just didn't think it was worth the drive and the $50 copay when Nathan seemed fine. However… when Nathan went for his five year checkup they did the little camera screening test thing and saw some astigmatism so we sucked it up and found an optometrist (no need for an MD for an OD problem…).
The results of the visit were positive: he's a little farsighted with a bit of astigmatism in his right eye, but not enough to worry about. The doctor said it could be corrected with glasses, but the odds of him actually wearing them, since the needed correction was so slight, were practically nill. Come back next year!
The visit itself? Not something I enjoyed. We were there nearly two hours (not the OD office staff's fault, if you know what I mean) and after the first hour I called Mr. Andi, whose office is just down the street, to see if maybe possibly he might be able to swing by and give me some H-E-L-P, it being close enough to his lunch hour and all.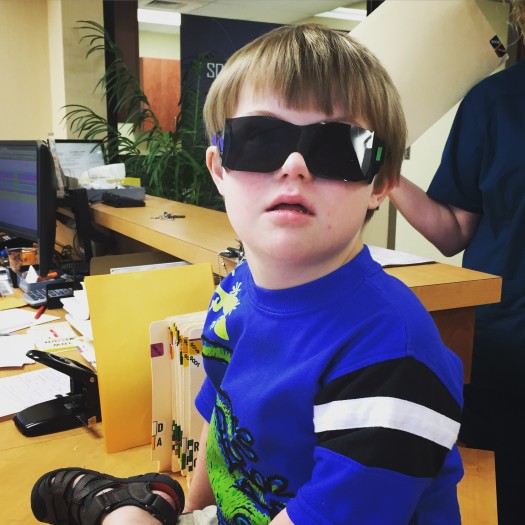 Also last week, Nathan started swim lessons.
His teacher, Mrs. Carol, is the same one who taught Sarah Kate six years ago. She has many years of experience with kids who have disabilities, and the summer after Sarah Kate took from Mrs. Carol she joined the swim team. We've finished six of eight lessons as of this morning and while Nathan has made progress I'm not quite ready to throw him into the swim team pool in 2016. Perhaps after another session or two…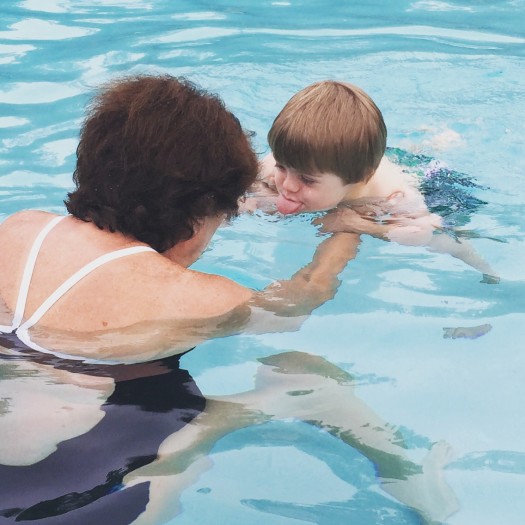 One thing we can definitely say about Nathan and the swim lessons? He doesn't fear the water. He's all about jumping into Mr. Andi's outstretched arms, even if it means he goes under briefly, and he'll glide underwater with his eyes wide open and a giant grin on his face. He'll also let someone hold onto him while he kick-kick-kicks all over the pool. When we can just get him to BOTH put his face in the water AND kick at the same time, we'll be good.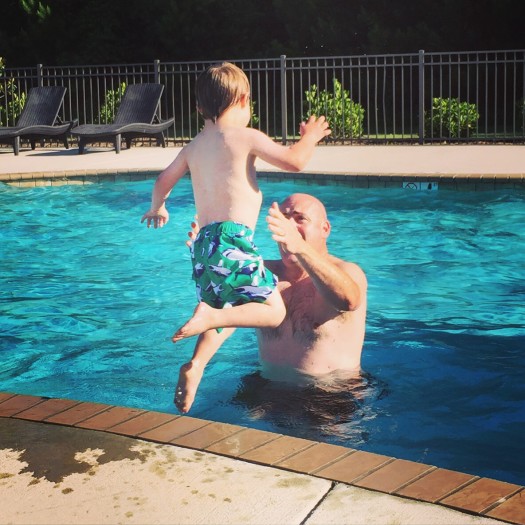 And then there's Gabi… Sigh. This dog has rocked our world in so many (mostly good) ways. She's an absolute sweetheart, but something of a stinker, too. I let her sit in my lap while we were watching the Women's College World Series this weekend (War Eagle!), mostly because I didn't want to have to worry about what she was doing if I let her wander around the house. Apparently, my acquiescence to brief lap sitting was interpreted as approval for couch sleeping when I'm not in the room to indicate otherwise.
Stinker.