— 1 —
I almost didn't do the Snippets for today. Things have been pretty laid back this week at Casa de Sunshine and honestly…I didn't much feel like dragging out ye ol' MacBook to do actual "work". I powered through the entire first season of Broadchurch (it was great!) on Netflix – in my defense, it was only eight episodes total so I wasn't a total slug all week – and now I'm looking for something new to waste my time watching.
I'm two episodes into Bloodline, but not sure if I want to keep going, and I'm considering The Walking Dead, but…zombies? Really? The main argument in favor of it is that it's the most watched drama on cable television so that makes me think there must be something to it. Also, I loved Breaking Bad and liked Mad Men enough to watch the whole thing, and those are both AMC offerings, too.
Speaking of entertainment of the video variety, I'm uber-excited that Inside Out is getting great reviews. I've been cautiously optimistic about Pixar's latest offering ever since we saw the trailer several months back. There's been lots of talk, though, about how the parents are all going to cry, which worries me a little because Toy Story 3 nearly killed me and to this day I haven't seen Up.
Have you heard of Fitstar? And if so, are you using it? I've been in a workout rut for the better part of the last year since I developed a neuroma in my foot and had to give up what was (at the time) my newest workout series, PiYo. I've continued to run, of course, but running doesn't do much for the upper body. I don't do live classes, preferring to exercise alone (i.e., look ridiculous in the comfort of my own home), but I've checked out several options and nothing was grabbing me. I'm 45 years old now, so some options are just…NO.
Anyway, I stumbled across Fitstar, which seems to be (not certain yet, because I just started) old school workouts BUT – and this is the part that sold me – you take a fitness test and it tailors the workout to your level, and continues to tweak it as you keep going. That's one thing as a distance runner I've struggled with off and on – leg work that seemed too easy in the same workout as upper body work that was brutal. It's billed as an app substitute for a personal trainer, which is probably not wholly true but for someone who would never use a personal trainer (as I am both too cheap and too averse to having someone critique my form in a one-on-one fashion, no matter how positive they are), it's the closest thing to it.
If you're still with me and Fitstar seems like something you'd like to try, you can use my referral code (YB1NKU) for a free month of the premium level. In the interest of full disclosure, I will get a free month if someone signs up with my referral code, but I'm really just sharing it because I think it's cool. If you're already using it, I'd love to hear what you think about it.
Sarah Kate joined a young writer's group for the summer. Although she's only been once so far, she seemed to really enjoy it and came right home to start working on the week's writing assignment. She's been writing fan fiction at home for awhile now, so it'll be interesting to see how she develops as a writer with some group feedback.
For a long time, I've wanted to be part of a writer's group, myself, but…I'm afraid. I realize that may make zero sense, since I publish a public blog that literally anyone in the world can read at any time, but there it is.
Sarah Kate is also back at swim team this summer. It was a last minute decision – worse than last minute, actually, as we registered nearly a month after signups and a week after they began daily practice – but they seem happy to have her back and see seems glad to be back. She hasn't decided yet if she'll swim any meets, and we aren't pushing it since it's been so long since she swam regularly, but for my part I hope she'll at least swim one or two this season.
In the fall, when she's in middle school, she'll qualify to swim with the high school team if she wants (with the same coach). I hope she decides to do it, but we'll have to see when fall is a little closer. As much as I hated it sometimes, I really did miss swim team last summer. Once I got over the initial terror of that first meet, it was great. 🙂 Speaking of that first meet…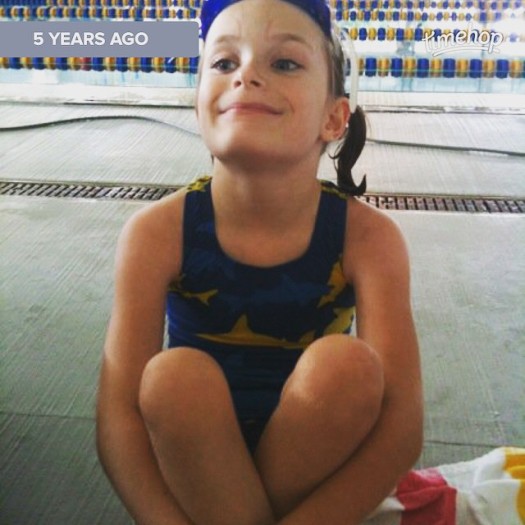 We are finally going to the beach! Last year we only went to the gulf beaches ONCE the entire summer. It was just too difficult to manage after Sarah Kate's surgery – the one time we did go was when my mother-in-law was in town so we had extra help. I know it's Father's Day and all, but I really, really, REALLY want to sit in a chair under our pop-up shelter and feel the warm sea breeze on me. Finally. Photos to follow next week – unless I decide to continue to be lazy. 🙂
Speaking of photos, be sure to check out Katie Evans' FREE guide to composition. While I'm certainly not a pro, a few classes using my 35mm back in the days before online options were available made a WORLD of difference in my photos. A lot of things can be fixed (or at least improved) on your computer after the fact, but the right composition is a great place to start, and Katie's guide is a free and easy way to learn how.
If you want to take it a step (or a lot of steps!) forward, come back next week for information on the Ultimate Digital Photography Bundle options, available for one week only, beginning Monday.
Have a Great Weekend!
This post was inspired by and is linked to This Ain't the Lyceum's 7 Quick Takes.