— 1 —
Vacation Bible School was this week at our parish, and according to most reports we have The Best VBS in Town. Optimistically, I signed Nathan up for the first time this year. His teachers always talked about how well he did at preschool, so I thought VBS would be no problem. Sarah Kate is old enough now to be a helper, so she would be around to consult if there was a question or issue.
VBS Day 1: I arrived a little early to pick Nathan up and as I waited outside the gym, Sarah Kate came around the corner with a panic stricken look and exclaimed, "Nathan is lost! They're looking for him and can't find him!" I never quite got the full story of what happened, but I don't think he was actually lost. Although he might have been.
VBS Day 2: I was a little anxious when I dropped him off, but the volunteers didn't act like there was a concern or problem so I didn't worry. However…when I picked him up, the director approached me with a tentative smile. Long story short, Nathan was …ahem… a bit of a handful and they were wondering if maybe I'd be willing to come to VBS with him to help out. I said I'd talk to Mr. Andi and see what we wanted to do, but given my aversion to field trips that pretty much wasn't happening.
And that's how Nathan became a Bible school dropout.
Later that night, over the dinner table, I was retelling the VBS fiasco to Mr. Andi when I turned to Nathan and said, "God made you cute for a reason, Dude."
His reply? "Yep!"
Fun fact: Mr. Andi only lasted two days in four year old preschool before his parents were asked not to bring him back. At least Nathan was a dropout, not an expulsion.
I got my first "Fix" from Stitch Fix this week, and while I'm not ready to say that it's the Best! Thing! Ever! I will say that I was pleased and plan to give it another go next month. I doubt you can grasp the depths of my loathing for clothes shopping, so I'll just say it: that was a ringing endorsement.
Had I planned ahead, I'd have taken photos of myself wearing the items I received, but I didn't so maybe next time (or maybe not – not sure I'm the kind of person who does stuff like that, and I'm not sure you care to see it). Until then, here are a few key points:
They definitely took into account all of the information I provided and sent me items that matched what I told them. I had an opportunity to provide additional feedback on the items I received, so if they also take into account that information, the next fix should be even better.
It was SO fun to get a box with stuff in it that was a complete surprise – WAY better than going shopping, which I hate, hate, hate, hate, hate. BONUS: I modeled each item for Mr. Andi when I tried them on so I could get immediate feedback from someone other than my overly critical mirror image.
I decided I wanted to keep four of the five items, but you get a discount on the lot if you buy all five, so it was actually cheaper to keep them all. The one top that didn't work I'll sell on a local swap. I wouldn't say that I LOVED all of the items, and they were all priced a little higher than I would like, so it actually goes against my philosophy to keep things I don't love, BUT I was in desperate need of some new things, and I can see how these fixes likely improve over time.
Overall, I'm happy that I did it and I'm going for another round next month, which I may (or may not) bore you with. If you decide to take the plunge, I'd love it if you'd use my referral link and come back and let me know what you thought about it. If there's enough interest I'll dedicate a whole post, not just a single snippet, to the process.
Remember Sarah Kate's friend since kindergarten, Ben? Mr. Andi took them fishing last Saturday. Hard to believe they've gone from this:
To this: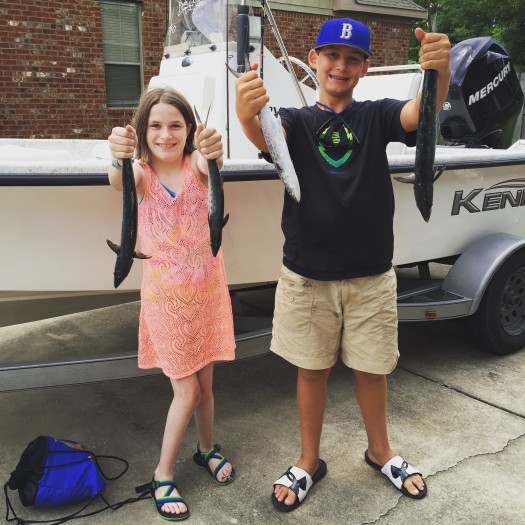 On Sunday, Mr. Andi took Nathan fishing, but apparently the fish weren't biting.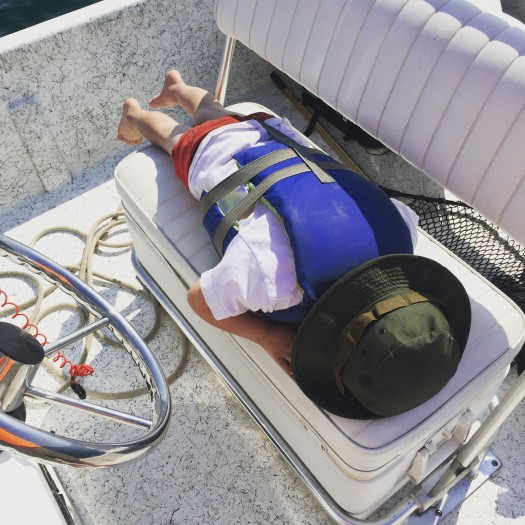 This photo is screaming for a meme, don't you think?
Y'all know how much I love the Christmas Jammies people, right? Well, the Holderness family is getting a TV show. I can foresee one of two possible outcomes here: (1) It'll be terrible and I'll hate it and wonder what I ever saw in these people, or (2) I will forget about it after this post goes live and never watch it.
Have any of you watched the series Broadchurch? It's a British series (of course – y'all know how much I like British television) starring David Tennant (who is my favorite Doctor). I've only watched one episode so far, but it was incredibly intriguing and well done. I can't wait for the next episode…if I weren't typing these stinkin' snippets I'd be watching it right now. 🙂 But I do appreciate you all for sticking with me during my semi-hiatus!
Have a Great Weekend!
This post was inspired by and is linked to This Ain't the Lyceum's 7 Quick Takes.