It's been two weeks since I last blogged – did you miss me? 😉 (FYI – it's absolutely fine if the answer is, "You were gone? I didn't notice." I won't mind.) On one level, I wanted to keep up my regular blogging schedule all summer long, and a part of me believed I'd do it, but another part of me was tired and unmotivated and frustrated and So. Done. and I'm guessing you know which part won the battle. I'll have more on that in another post later (because I think "warts and all" is the way to go here), but for now I want to share with you what I did this past weekend.
I went to Edel.
Some of you reading know what Edel is – in fact, some of you were there – but for those who don't, it was the Edel Gathering in Charleston, South Carolina. Edel is a conference for Catholic women, focused on fun, friendship, and keeping our sanity. And, boy, did I need some help with that sanity thing…
It all started when Nathan got pneumonia a few weeks ago.
No, that's not right.
It all started several weeks ago when Nathan became a Bible school dropout.
Not that's not right, either.
It all started … I don't know when. But this summer hasn't been anything close to how I hoped it would be, and when Nathan ended up with pneumonia it really honked. When Momma ended up sick a couple of weeks later … things went downhill quickly.
I needed a break.
I wasn't completely well by the time I left for Charleston – lung afflictions like pneumonia and bronchitis don't resolve themselves overnight, even when you aren't technically sick anymore – but I was away from home and even enjoyed (most of) the 9-1/2 hour drive because I was ALONE! and FREE! and I could think my thoughts and listen to whatever I wanted on the radio with NO interruptions.
I arrived late Thursday night, tired and hungry, hung the little thingy on my door with my room service breakfast order (pretty sure that's the only time I've ever paid for room service), and went straight to bed. When I woke the next morning, this was the view out my hotel window: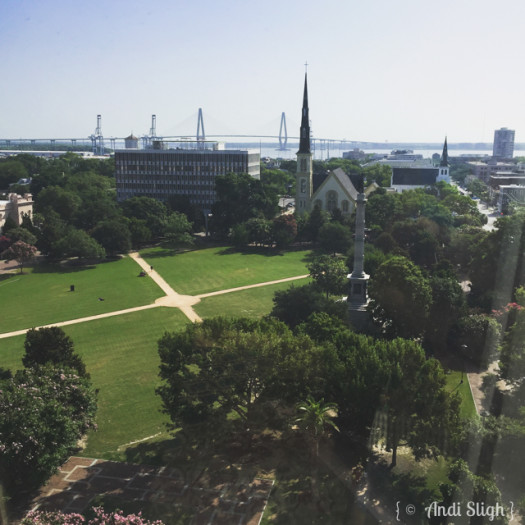 The day before, I had big plans for what I would see and do, but when I got up on Friday morning, I saw "Magnolia Cemetery" on the map the front desk had given me, and knew immediately: my plans were going out the window.
I love old cemeteries.
I could walk around them for hours, admiring the statuary and trying to put together the slivers of history into family narratives. Magnolia Cemetery contains the graves of a number of historically significant people, and it's filled with beautiful old live oaks and marvelous statues and headstones.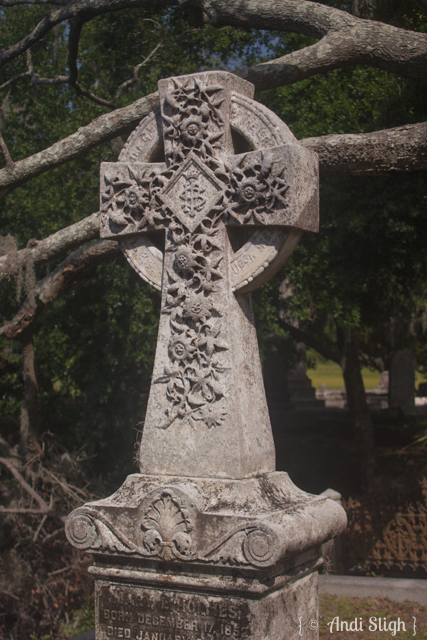 I was struck by many thoughts as I walked around, not least of which was how prominent a role faith played in people's lives a century (and a half) ago. Christian symbolism was found everywhere, which felt alien in today's secular world.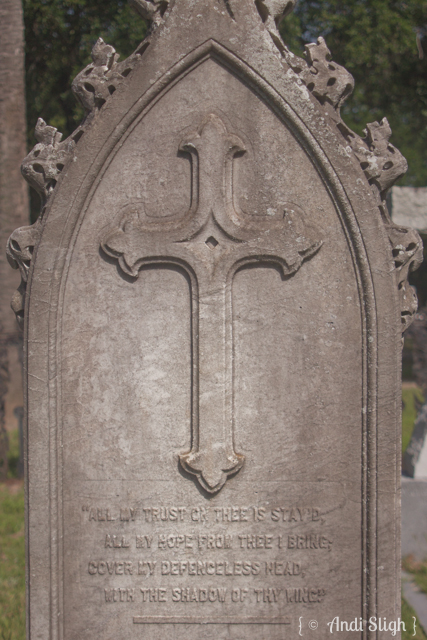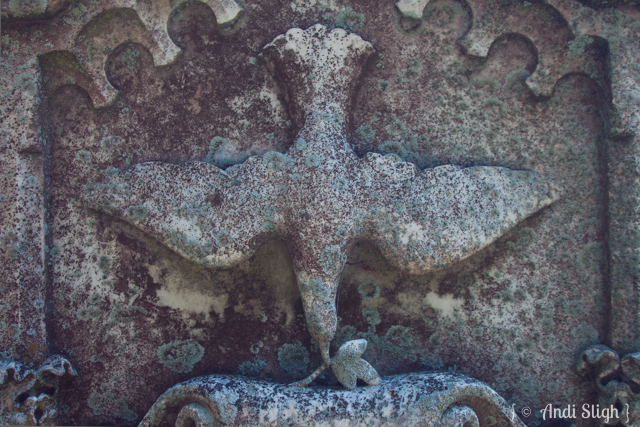 One of my favorite statues was this one of St. Michael the Archangel, though by the time I found it I wasn't able to get a good shot of it in the bright midday sun.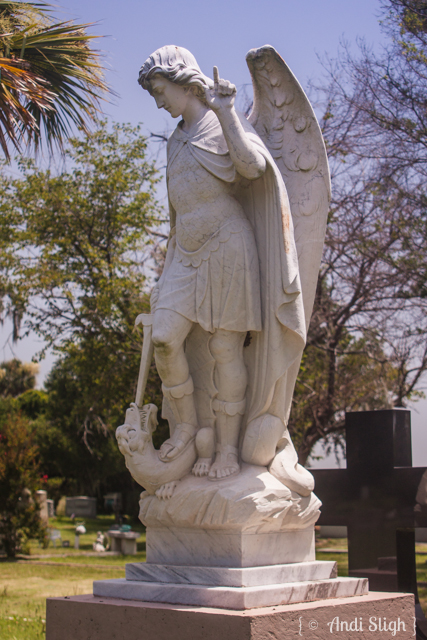 Later that afternoon, I had the opportunity to be in the audience (front row and center!) in a live broadcast of The Jennifer Fulwiler Show on SiriusXM. I've been a fan of Jen's blog since WAY before she had a radio show, so that was a special treat. Here, she is decorating a pair of boots (while live on the air) with a Jesus punching a shark for the Crazy Shoe Contest that night. Hallie Lord, co-founder of Edel, was decorating a pair of flip flops while enduring contractions (again, live on the air) – her due date was that day.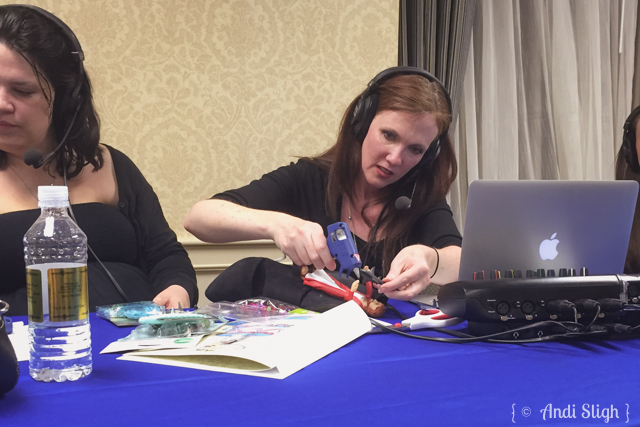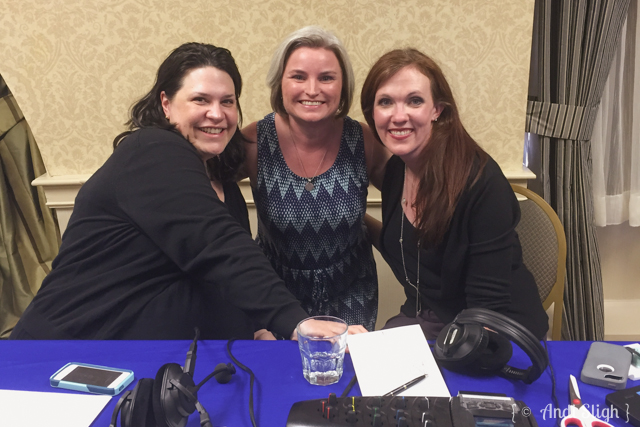 On Saturday morning, I walked down the street to "Mother Emanuel" AME Church, site of the horrific shooting last month. The church has become a shrine of sorts.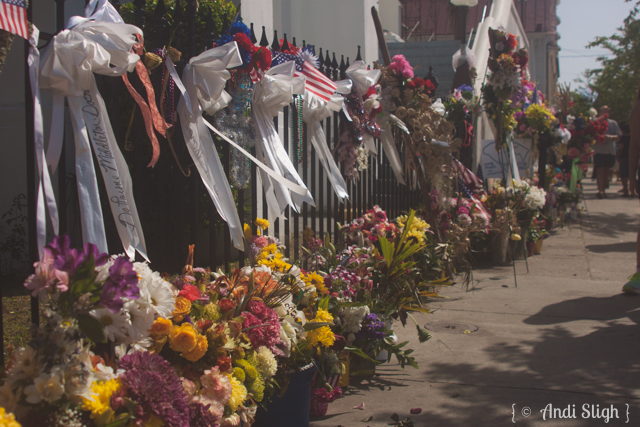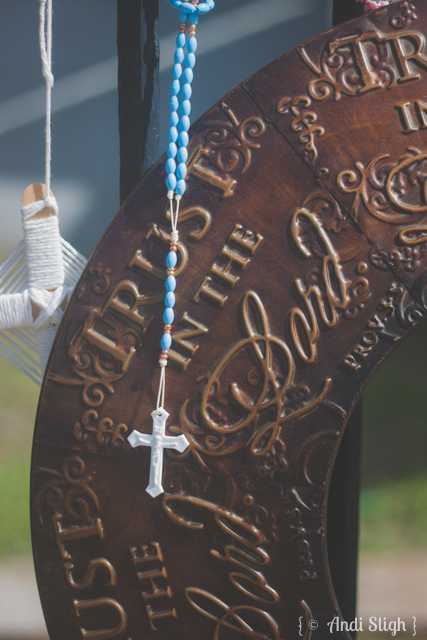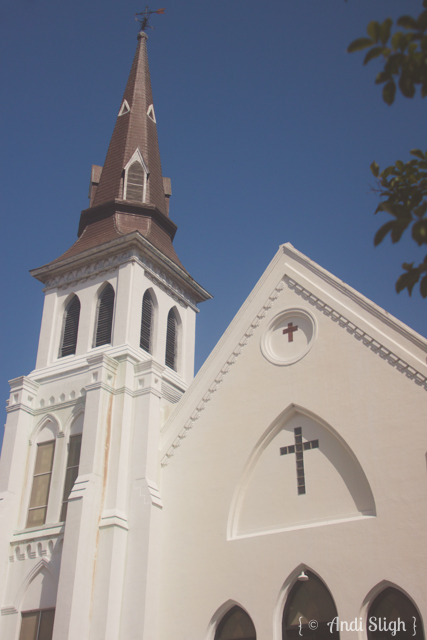 I didn't realize when I took the first photo of my view out the hotel window on Friday morning how close I was to Emanuel AME Church (it's the steeple on the right in the photo below).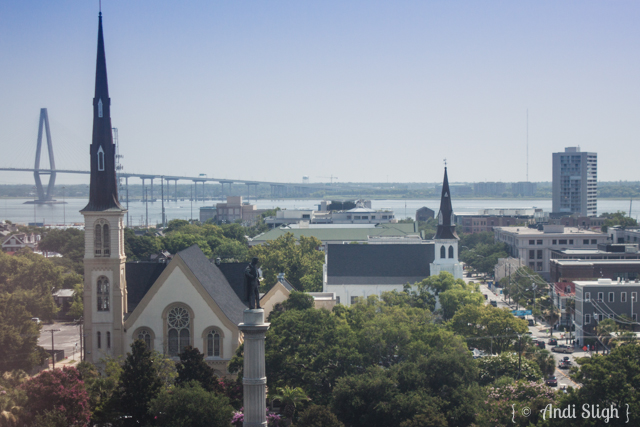 That afternoon, during a break, I decided to stroll by the radio "booth" where Jennifer Fulwiler was broadcasting live. With very little warning – seriously, it was 90 seconds – I was recruited to come on the show as the final guest. I said a quick Hail Mary, asked God to put the words in my mouth that I needed to say, and suddenly we were ON and I was only semi-panicked because I didn't really have time to think about it.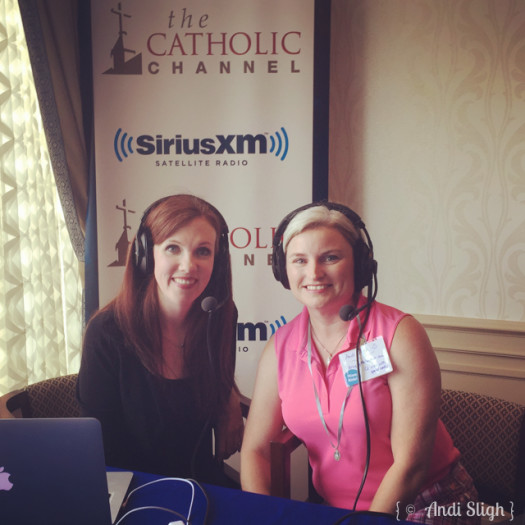 I didn't do well enough to have my own show (LOL!) but it was not as intimidating as expected. It was like having a normal conversation, but wearing a headset and mic, and having a guy in New York speak into the headset periodically, sounding a little like the voice of God ("Five minutes.") The show is available On Demand, SiriusXM Channel 129, if you're a subscriber.
I'll be back – probably on Thursday – with some deeper thoughts on life, mothering, faith, and I'm not exactly sure what else (but maybe none of the above).
Happy Tuesday!