— 1 —
Remember when I told you I'd have a new post for Thursday? Yeah…didn't happen. I've got a lot of thoughts marinating but they weren't ready to come out yet, apparently. I will try again next week, although I am back with Snippets after an unusual hiatus (that's something, right?)
Unfortunately, I am scrambling to type these Snippets early on Friday morning. I typically do them on Thursdays (or, if I'm really on top of things, all throughout the week), but Sarah Kate had a swim meet last night – the only one she will swim this season – and it ran really long. They all run long, of course, but it's been two years since I've been to one so I guess I had forgotten how long they are. Or maybe it seemed longer because she decided to only swim one event. But, no, it actually was longer, too, because there was a lightning delay. And the fact that it was probably the hottest day (and night) of the year didn't help. Anywho…
I'm sure you'd rather hear how the meet went than what the weather was like. We had encouraged Sarah Kate to swim at least one meet this summer (although we told her she didn't have to swim any), and she decided on this one. Now that she's older (and Nathan is wilder), her practices are longer, so I don't ever go to them – I just drop her off and pick her up. Yesterday, when she got in the car, I asked her what she was swimming (50 free). I waited for her to keep going, but she didn't. (Silent groan) … You aren't swimming back? (No. Didn't want to. She asked me what I wanted to swim and I told her just free.)
But after last year's summer of misery and a long year of surgery recovery, I didn't complain because I'm just happy she's swimming again. So we arrived, set up our chairs along the side of the pool, grabbed her assignment, and waited. The entire meet was 58 events. Guess which event she was swimming in?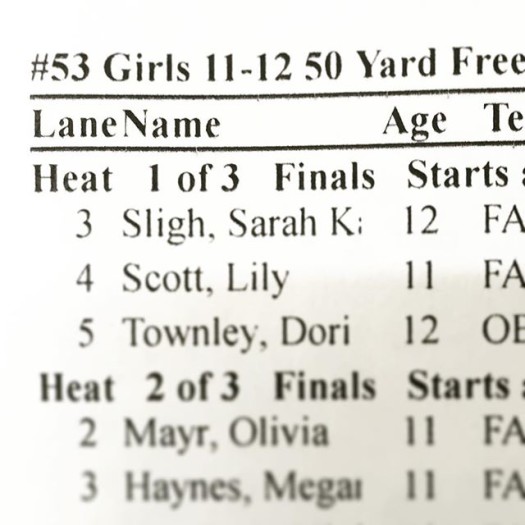 Only three girls were listed for her heat, and when the time came one of them didn't show. Sarah Kate's seed time was 1:44.22 – her last best time from two years ago, before all the trouble started, and before her extensive surgery last spring. Two summers ago, she was at her peak in terms of strength, balance, and flexibility – not just for the year, but for her entire life. She didn't give me any reason to think she'd beat that time – in fact, to hear her talk, there was a good chance she'd be slower, so I didn't expect much. I was just glad she was there, and I positioned myself at the end of her lane – the halfway point – with my camera.
She still doesn't go off the block because she can't keep her balance up there. (Maybe if she had a post or something to hold onto while waiting? I'm open to suggestions if anyone has ever seen an adapted swim starting block…) Her start puts her at a disadvantage right off the bat, but once she came up and started swimming, I thought she actually looked pretty good.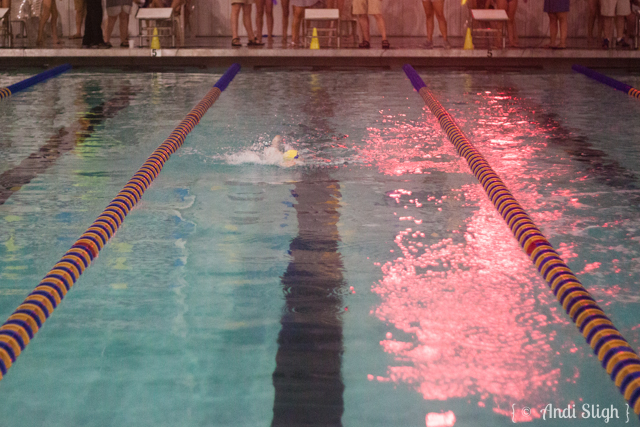 Surprisingly good, actually, and by the time she made it to where I was standing at the turn, it was clear to me that she was going a lot faster than I was expecting.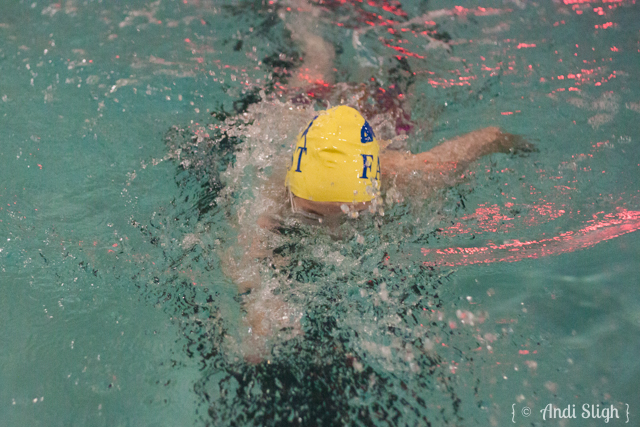 On the way back, she sagged a little. I could tell she was a little slower, but mostly what I saw was her form start to falter. Her arms weren't quite as straight, and her stroke wasn't quite as smooth. But she kept going, and my eyes moved back and forth from her body moving away from me to the timing clock on the wall above her.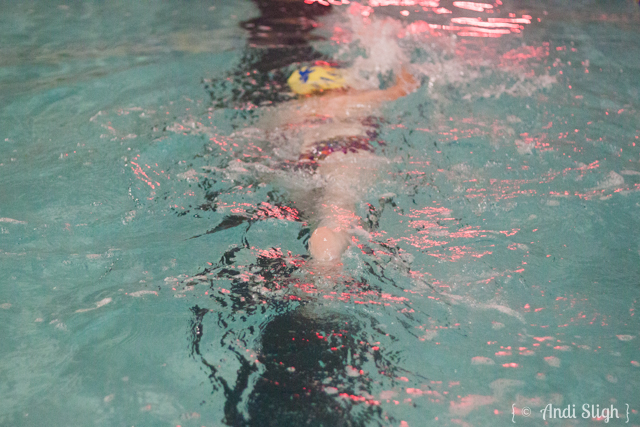 When she reached the halfway point, I knew without a doubt she was going to beat 1:44.21, but I didn't know by how much. I could hear people cheering for her – not polite cheers for the unknown underdog, but the voices of young girls calling out her name.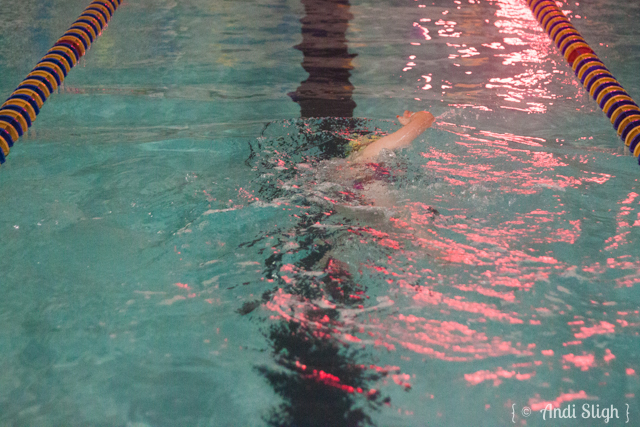 The final seconds seemed like an eternity.
From where I stood at the opposite end of the pool, it seemed like she was at the wall for a few seconds and the timer inexplicably wasn't stopping. But…finally…it did.
1:26.21
The next few minutes were a whirlwind. One of her teammates picked her up in celebration, and Coach Cathy gave her a big hug of congratulations. In the moment, I was too excited and happy to get teary-eyed, but later? I thanked God for Coach Cathy, who once upon a time way back in 2010 told us to let Sarah Kate try swim team. We took a leap of faith, and I'm so glad we did.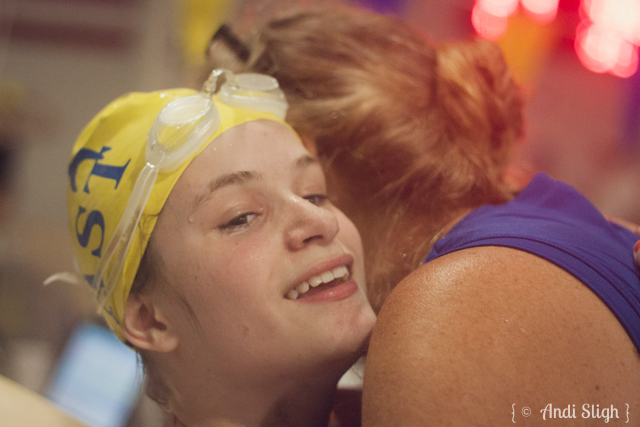 (Oh, and by the way…Coach Cathy is Catholic. If you heard me on The Jennifer Fulwiler Show on Sirius XM 129 last weekend, you'll understand why I mention it.)
So Sarah Kate is back – a swimmer once again – and there's a part of me that can't believe it. She has one more week of swim practice, but no meets because the only one left is the big area one, and you have to swim at least two meets during the season to compete. But in the fall, she'll have the opportunity to swim for her school team, with Cathy as her coach once again.
I can't wait.
Have a Great Weekend!
This post was inspired by and is linked to This Ain't the Lyceum's 7 Quick Takes.