This post is not sponsored, but if you decide to try Stitch Fix
, I'd love it if you would use my referral link! Find it in the sidebar, text links, or at the bottom of this post.

I was not blessed with the shopping gene.
I have friends (and a sister) who thrive on the found deal, know exactly what to pull off the rack that'll look fantastic on them, and can choose things from their closets to make endless combinations of outfits. I am not like them. I'm pretty good with my colors, but only because I took a class fifteen years ago that told me what to do (before that? disaster). I managed pretty well back in the day when Petite Sophisticate and Casual Corner were still in business, but now? I'm hopeless.
At my age and life stage, going shopping with a friend to guide me is near impossible to schedule, and going alone is overwhelming. I'm short and built like a martini olive, but that isn't the main issue – my problem is too many choices. I'm not good at styling to begin with, so in a store with So! Many! Options! I am paralyzed. I take a dozen things into the dressing room, find one or two that fit, but then can't remember what I already own so I don't know if it will work and I don't buy it. Or worse – I do, and regret it.
I seriously hate shopping.
Did I mention that I'm also cheap? Maybe cheap is not a good word, but at the least I'm what you might call budget-obsessed. As if shopping wasn't unpleasant enough, I look at price tags before I head for the dressing room, which makes me feel guilty when trying things on or keeps me from ever pulling it off the rack in the first place.
Last May, I decided to bite the bullet and try Stitch Fix
. I was pretty sure it wouldn't work for me, either because they wouldn't pick stuff I liked that fit or it would all be too expensive. I can honestly say that the main reason I did it was because I was badly in need of new clothes and I REALLY didn't want to go shopping.
Now? I LOVE Stitch Fix.
Since it's been such a boon to me, I thought some of you might benefit from an honest review of my latest Fix. At the end, I'll give you some tips on how to make Stitch Fix
work for you.
How It Works in a Nutshell: You fill out a style profile and schedule a delivery date. Stitch Fix
sends you five items, along with styling suggestions for each item. You keep what works and send the rest back within three days in a postage prepaid included envelope. You pay a $20 styling fee but that $20 goes toward the purchase price of any items you buy.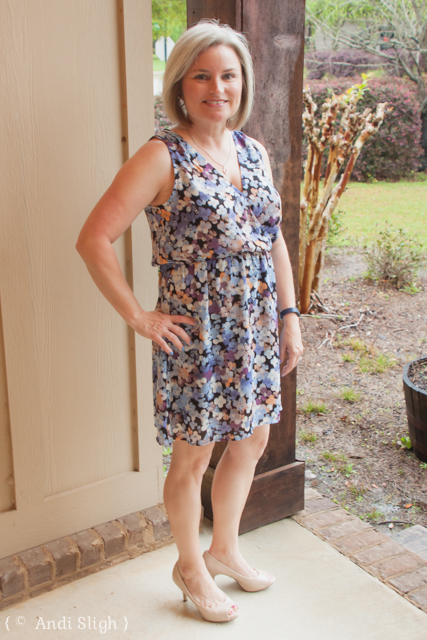 Item #1: Lorette Dress by Paper Crown
I'm starting with my least favorite item. I liked the colors and the style was okay, but the pattern? Whoa. Way too busy for me. It probably would have looked really cute with a denim jacket, but I didn't love it and it was a bit pricey. Verdict: Returning.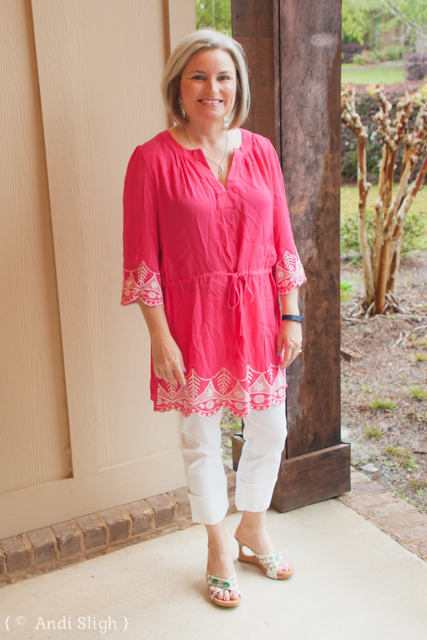 Item #2: Rita Embroidered Tunic by Crescent AND
Item #3: Kent Capri Skinny Jean by Lila Ryan
I absolutely LOVED this tunic when I pulled it out of the box. The color was great, the style was So Me, and it looked loose and comfy for life on the humid Gulf Coast. It just didn't fit right, though (and it wasn't because I folded it improperly, wrinkling it in an obscene fashion). At first I thought it was a size too big, but I decided it just isn't cut for a short person like me. Verdict: Returning.
The white skinny jeans felt SO good on. I struggle with jeans that fit because of that martini-olive shape thing. Waist that fits = hips that are baggy; hips that fit = too tight waist. These were perfect with just a bit of stretch. They'll also go with a bunch of other things in my closet. Verdict: Keeping.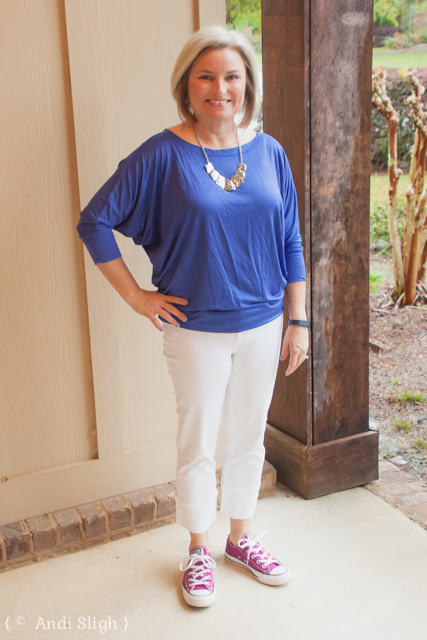 Item #4: Queensland Dolman Jersey Top by 41Hawthorn
I was pretty sure when I pulled this top out of the box that it was a keeper. I have another dolman sleeve top in this same brand that I received back in the fall, and even though the styles aren't identical the things I loved about the first one were present here. The color is absolutely perfect and it can be dressed up or down. I grabbed a pair of colorful Converse for the pic because I was thinking "T-ball Mom Outfit," but it would work with cute wedges or heels, as well. Verdict: Keeping.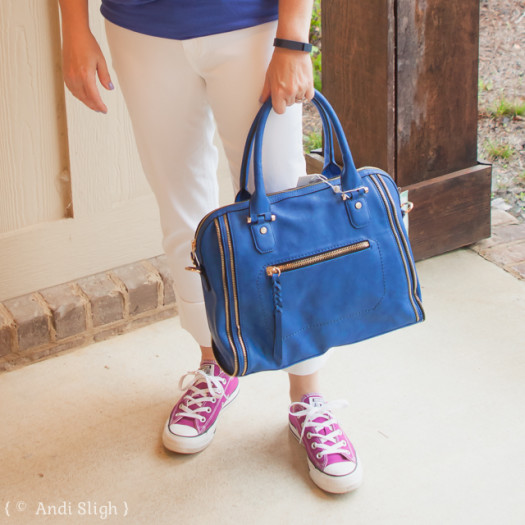 Item #5: Elisha Zipper Accent Structured Satchel by Urban Expressions
This bag is a great example of how Stitch Fix
will look not just at the profile you complete with them, but a style board on Pinterest if you provide it. Back in the fall, I asked for a fall handbag and I pinned this exact bag in a salmon color. On the pin I commented that I liked the style but would prefer a different color, possibly a deep blue? Six months ago, this bag would have been a slam dunk, but I was looking for something a little different for spring. Verdict: Returning, but with a lot of reservations.
What I Love About Stitch Fix
I never have to leave my house for new clothes (that in itself would be enough), which means I can try things on in the comfort of my bedroom and pair items with what I already have in my closet before deciding. The first Fix I received was a Mother's Day gift so Mr. Andi was curious and wanted to see each item as I tried it on. It's now part of the routine that I model each item for him before I decide (and he sees me before I look in the mirror), and let me tell you – having your husband tell you he loves a top on you is seriously great. I've kept things that I was unsure about but he loved and not regretted it a single time.
How to Make Stitch Fix Work For You
Be very intentional and specific about completing your style profile. The more information they have, the better your Fix will be. Take advantage of the Pinterest board option, as well.
Be very specific in your review of each item they send you, whether you like it or not. The feedback helps them with future styling. Although I purchased items from the very first Fix, it wasn't until the third or fourth one arrived that I really felt like they "got" me.
If you get a Fix that ROCKS, you can ask for the same stylist in the future. I had one that I loved, but she recently left the company. However, the new one really nailed my style this time so I'm asking for her again. Even though I sent more back than I kept, it was more a function of bad luck (poor fit, my Pinterest oops!) than any failure on her part.
Even if you think you hate something when you pull it out of the box, try it on, anyway. I've fallen in love with items I would NEVER have pulled off a rack to try on in a store.
Try everything on and do it before you look at the price. Trust me on this one.
Some people will tell you not to buy basics (like the white skinnies above) at Stitch Fix, but I don't agree. I don't care that I can get a less expensive pair somewhere else because that means I'd have to go shopping. I have several pairs of jeans in my closet but my favorite, best fitting ones all came from Stitch Fix. Of course, YMMV.
Update your style profile regularly and don't forget to update your Pinterest style board if you use one (a mistake I made this time with the handbag).
Plan ahead for special events, but also consider what types of clothes you'll be wearing for the foreseeable future. You can request a special dress for a wedding, for example, or if you're like me you can also say, "I need cute clothes to wear at the ballpark this spring while my son plays T-ball".
There are other ways to buy clothes, and Stitch Fix
 isn't going to be the first choice for everyone. One of my good friends signed up shortly after I did and while she still regularly receives Fixes, over time she has purchased a lot fewer items than I have – she enjoys shopping more than I do so she would be unlikely to buy those white skinnies knowing she could get some elsewhere for cheaper (or she already has some she loves).
For me, though, Stitch Fix
 is a lifesaver because I can remove "clothes shopping for myself" from my list (unfortunately, Stitch Fix
 can't help me with clothes shopping for Sarah Kate…) If you want to try it for yourself, click on the image below to sign up.
If you do decide to try Stitch Fix, come back here and let me know what you thought about it. And if you enjoyed this post, let me know – I can model for you again in the future. 😉
UPDATE: I completely forgot – Stitch Fix also now has shoes! I got a pair in a Fix a couple of months ago and it was a complete surprise! I've loved other accessories I've received in the past (jewelry and handbags), so I'm looking forward to shoes, too.