what the kids have been doing lately
, and I closed that post with a tip of the hat to those people who have encouraged my kids, welcoming them into a typical world that isn't perfectly suited to them. I am forever indebted to them for paving the way, smoothing the edges, and being awesome.
But the knuckleheads need to be recognized, too. 😉
I think a graduation ceremony from kindergarten is kinda ridiculous (I mean, they're coming back to the same school next year…what exactly are they graduating from?) When Sarah Kate graduated from kindergarten, I mocked the proceeding under my breath to Mr. Andi, because I am a terrible, cynical person. Feel free to judge me if you like. But I did play along for Sarah Kate's sake, taking photos and telling her how awesome she was.
Nathan's kindergarten graduation was Tuesday.
The kids filed in one at a time to "Pomp and Circumstance" with Nathan bringing up the almost-rear because he's the second shortest kid in his class. There were lots of smiles and a few "Hey, [insert name]" but it was a mostly-solemn procession until Nathan appeared, at which point he cheesed and people cheered and chuckled (go to the tape on Insta here) and I worried that a monster was being created.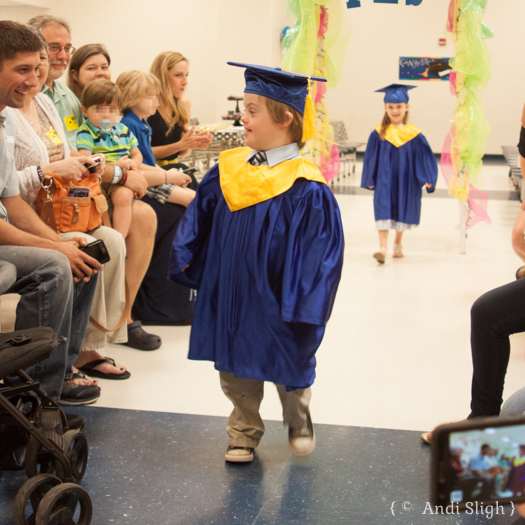 The program rocked along pretty smoothly for awhile. He sat down on the bench like he'd been instructed, and generally did what he was supposed to do. The shortest kid in the class is his precious pal, Lucy (seated next to him), who is by all accounts a perfect student in the mold of a young Hermione Granger, and bless her heart – she has helped keep him in line all year long.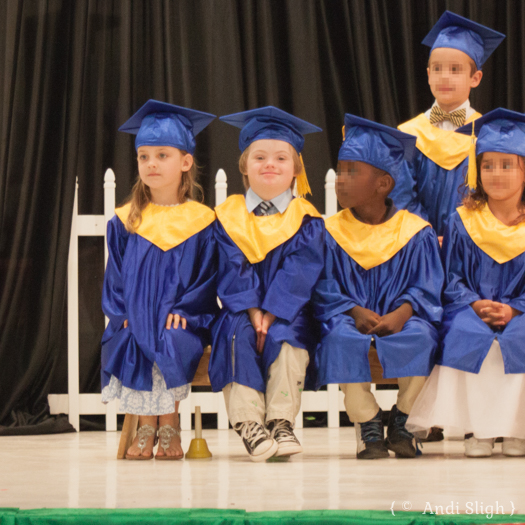 Nathan's group was the first to say their lines in the program, and he did well.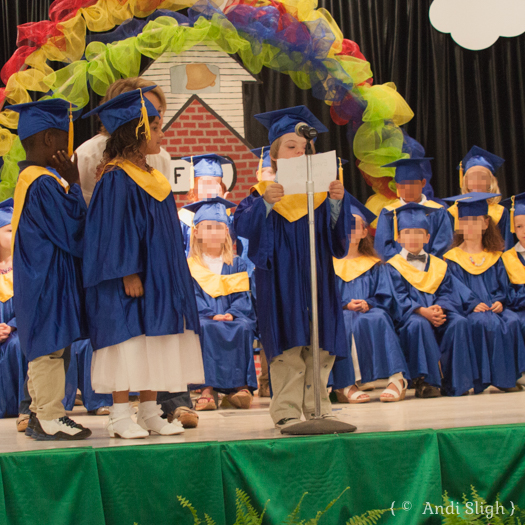 The mic was a little too high, but he said his line and cheesed at me on the front row and went back to his seat according to plan. All was still well, and I was optimistic.
Things got a little dicey a few songs into the program. Sitting upright with feet flat on the floor was apparently too much to ask.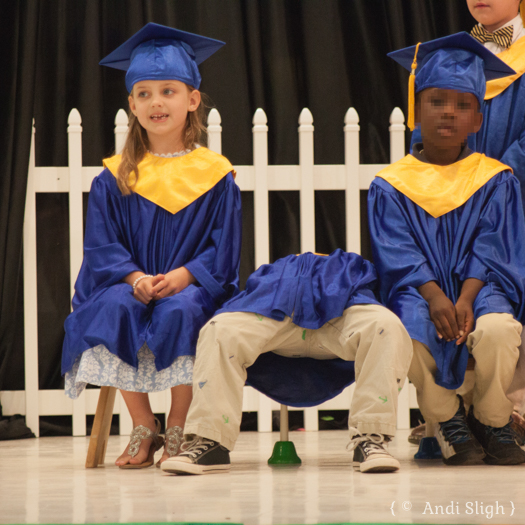 Although the respite was brief and he was back to performing the songs in no time (though still not with his feet on the floor).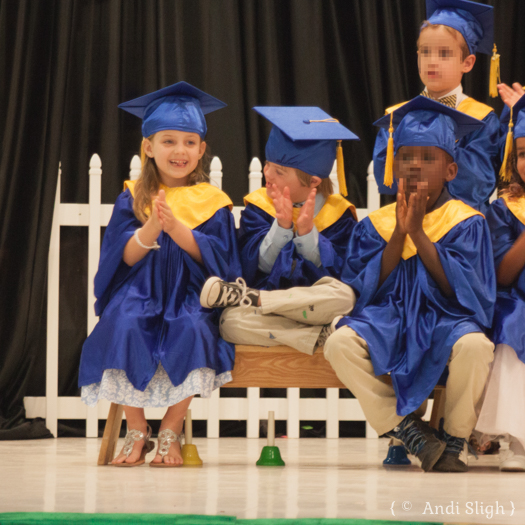 At one point, the mortarboard came off, and for awhile the tassel dangling in his face begged to be chewed, but things rocked along at an acceptable level of uneventfulness…until the handbell portion of the program.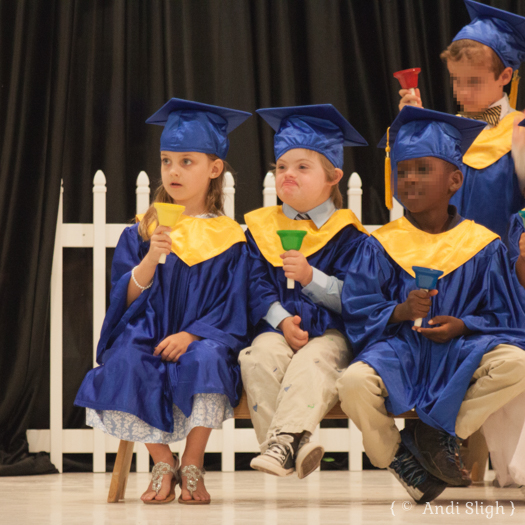 Nathan played his green handbell just fine, but when it came time to place it back under his seat, the trouble started. He leaned way over…and didn't sit back up. Everyone in attendance could hear the faint but persistent ringing of the bell for an extended period of time until Miss Allison chose to emerge from stage right to intervene.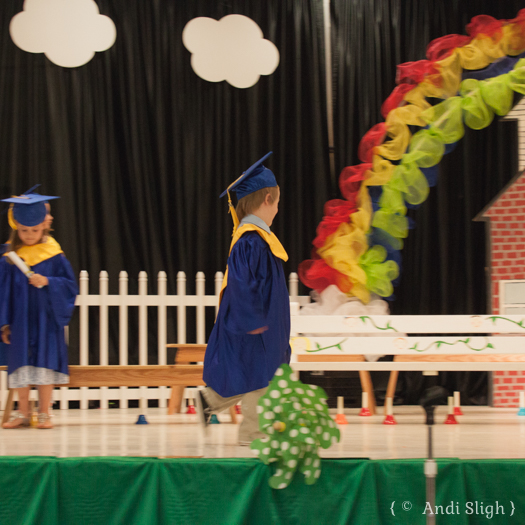 At long last, it was time to receive his diploma from the principal. I don't recall him running at breakneck pace across the stage to meet her, but I guess a panning shot doesn't lie…?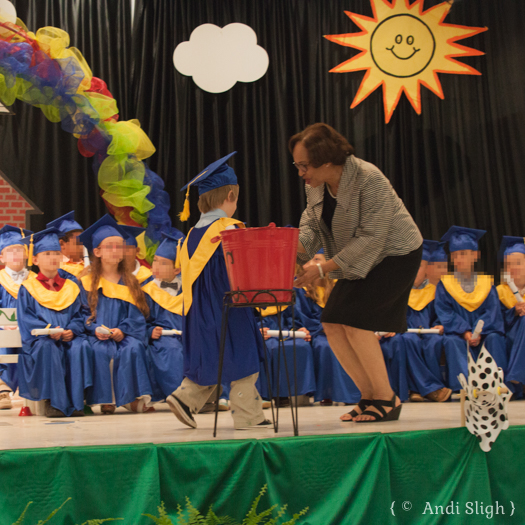 We were in the home stretch. Most of the lines had been read and the songs sung. We'd had quite a few chuckles along the way, but that's to be expected. I was calm, relaxed, and happy.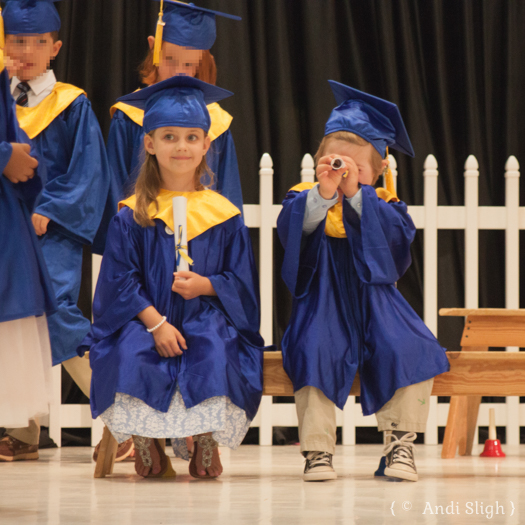 So what if Nathan ditched his mortarboard and used his diploma like a telescope?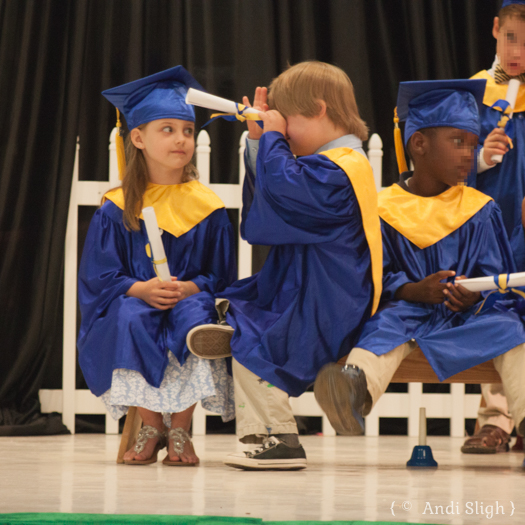 But, alas, there are limits to his willingness to conform.
For reasons unknown, Nathan decided that he Simply Must give his momma a hug, so he hopped up off of his seat, ran to the front of the stage, climbed over the edge, dropping to the floor before anyone could stop him, and raced across the short distance to leap into my lap. Everyone laughed, and even his cynical mom thought it was pretty cute.
Once he'd settled down and been sitting with me for a moment, I asked him if he'd like to go back up on stage and sit next to Lucy again ("YES!"). I set him down on the floor, giving him clear instructions to walk to the left and go up the stairs next to the curtain.
He disregarded my instructions and returned to his spot the same way he came down – by scaling up the front wall of the stage.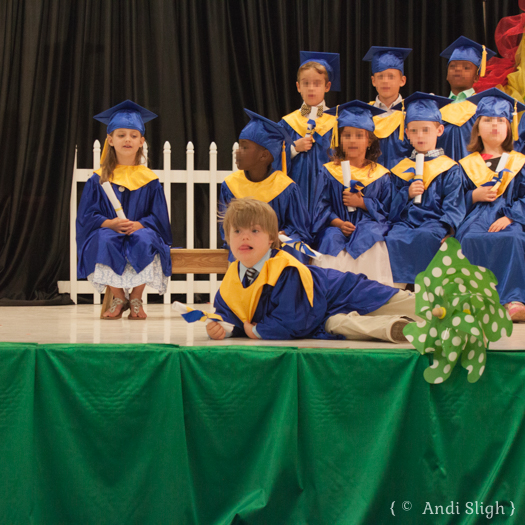 There may also have been something resembling 80s-style break dancing on the floor before he returned to his seat.
I love the iconic play scene in the movie Parenthood, and I'm not afraid to admit that I'm a lot more like Steve Martin's character than I am Mary Steenburgen's. But on Tuesday, I didn't stress or worry or wish he was doing All the Right Things – I was laughing and smiling along with everyone else. Sure, I would have preferred for him not to be disruptive, but it's kindergarten graduation – best I can tell, the whole point of it is for them to be cute so parents can take lots of photos.
So for all you knuckleheads out there who laugh at his antics…thank you.
Your good natured laughter helped this stressed out momma relax and enjoy the show.
My opinion about the merits of a commencement ceremony for kindergarteners hasn't changed, but what I realized on Tuesday is that Nathan's graduation was a new beginning for someone: ME. After a year of Nathan Runs™, the tears I shed at the First Thanksgiving Skit, and his nearly riding a rocking horse off the front of the stage at Christmas, I think I'm finally There – the place where I can enjoy his antics and not worry about what other people might be thinking.
In a commencement address in 2003, Michael Dell said, "As you start your journey, the first thing you should do is throw away that store-bought map and begin to draw your own." I've spent way too much time following the maps that came before me, when Nathan was drawing his own. Nathan brings his unbridled joy to occasions big and small, and it would be a shame to close myself off to that joy. Nathan may not have been the child I wanted, but he is the boy I need.
It's time to follow his map for a change.
On Tuesday, I wrote about