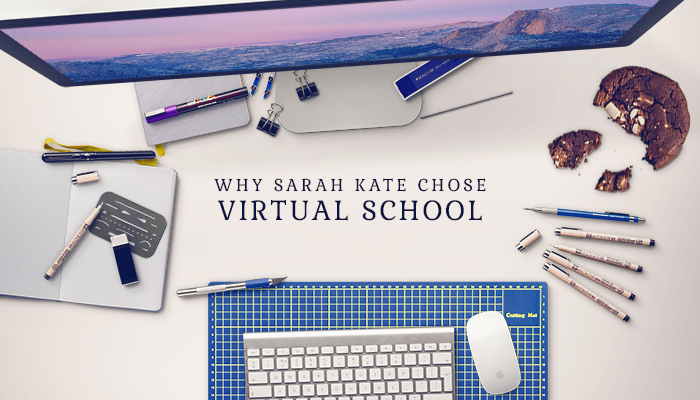 Virtual school has been an option for high school in our district for about three years, but it's new this year for eighth grade, so that makes Sarah Kate a bit of a guinea pig. With less than a week to go before the new school year starts, I thought it would be a good time to talk about why we chose this option; in a couple of months I hope to update you on how it's going. Some of you may have virtual/online school available to you now or later and might find the information helpful.
Why We Chose It
We weighed a number of factors when making this decision, not least of which is the logistics of navigating the middle school building. Her base school doesn't have lockers – the kids keep their belongings (backpack, lunch box, jacket, etc. – everything except band instruments) with them all day long. In addition, they only have three minutes between classes (yes, you read that right – THREE minutes!) in a school with 400 kids per grade. Sarah Kate had some accommodations last year, such as being able to cut through the cafeteria to shorten the distance (and avoid the chaos), but the fact remains that three minutes is simply not enough for her. She was either the first to leave or the last to arrive at every class, at break, and at lunch, and she was always in danger of getting mowed down in the hallway by her oblivious peers.
Although she is enrolled in the virtual school, she can still participate in extracurriculars at her base school. This feature was a HUGE factor in our decision, because it means she can still swim for the high school team and also continue to be in the band. Since band is also a class, I'll take her to school each day for third period only. It'll be a little bit tricky because I'll have to make sure to juggle my day around the drop-off and pickup, but I'll actually lose less time than I did last year – no waiting in car line! She also has a friend who is enrolled in virtual school and will be in band, so her mom and I can swap favors with drop-off and pickup if needed.
Sarah Kate can work as far ahead in her coursework as she wants. Although officially she won't have advanced classes in virtual school like she would at her base school (she will have Algebra), the ability to work ahead is like having customized advanced classes. In addition, the list of available electives is long, and independent studies are not only allowed, but encouraged.
Since Sarah Kate won't have PE, she will be able to take an extra elective that she wouldn't have been able to take at her base school (she chose Creative Writing). Although it seems like the lack of PE in virtual school would be a negative for her, given her need for consistent exercise, it's actually a plus: most mainstream PE activities are out of her reach, so being at home with a more flexible schedule will allow her to do workouts suited to her body on her own time, rather than having to tack them onto the end of her busy days.
If she decides to stick with it for high school, she'll be able to take advanced placement (AP) classes like her traditional school peers, and dual enrollment is also offered through the University of Alabama, University of South Alabama, and Faulkner State Community College (and with this last option, tuition is FREE!) The virtual school is also a 12-month program so that kids can spread out their course load or graduate early if they wish (although I don't plan to encourage that! 😉 )
How It Will Work
She'll do all of her coursework online, with virtual school teachers who will grade her tests and assignments remotely and assist as needed. All of her exams will be taken on-site at the virtual school campus which (lucky for us) is close to where we live and is even closer to Nathan's school. Exams aren't scheduled at specific times; she simply shows up during virtual school office hours, signs in, takes the test, and leaves.
The virtual school does take attendance – when she logs on to the student portal, she's counted present. This method assures the virtual school lead teacher that she's keeping up with her schoolwork without tying her to a specific location. It will come in handy when she goes to Birmingham in early October for a follow-up with her rehab doctor (and in February when we drive to Orlando for Princess Half Marathon Weekend!)
Her 504 plan will remain in effect, although it should be simpler for the coming year. Most of the items on it relate to navigating the school, which will be less of an issue since she will only be there for one class period per day. She will have to give up one day/week of adapted PE and one day/week of physical therapy that she has received at school in the past, but as I mentioned above, she'll have the flexibility to do her own workouts at home so it's a sacrifice we're willing to make.
She will have to continue wearing a school uniform. Since she'll be at the base school every day for band, she has to follow their rules when she's on their campus (when in Rome and all that…). Since she's thirteen, this requirement is probably mildly annoying to her, but as far as I'm concerned, it's no biggie. She has to wear something, right? 😉
The Big Question Everyone Asks
The question everyone wants to know is "Do you worry about her missing her friends?" The answer is a resounding NO. Although Sarah Kate hasn't had to deal with a lot of bullies or "mean girls," that doesn't mean that middle school hasn't been tough. As I stated above, she was the first to leave or the last to arrive at every class, at break, and at lunch last year, and that's not very conducive to meaningful social interaction.
The thing people don't always realize is that while everyone may know and like Sarah Kate, not everyone stops to talk to her. Despite her position as a minor celebrity, she was surprisingly isolated at school. All of the opportunities she had before to socialize with her friends – band, swim team, church youth group, and theater – will still be there, without the logistical challenges of traditional school.
Final Thoughts
I'm going to be honest – it will be a challenge for both of us for her to be home during the day. She's going to have to learn to manage herself with minimal supervision, and I'm going to have to be a lot more deliberate about how I structure my days. She'll probably get tripped up in the beginning, but along the way she'll have the opportunity to learn valuable skills she'll need later on in college – and she'll have a safety net as she learns them.
I'm looking forward to this new adventure, and so is she. Because Nathan is so …ahem… labor intensive, I feel like she's gotten the shaft a lot these past few years and it'll be nice to be able to be "just the girls" more often, even if that simply means sharing laughs over a peanut butter and jelly sandwich a couple of days a week.