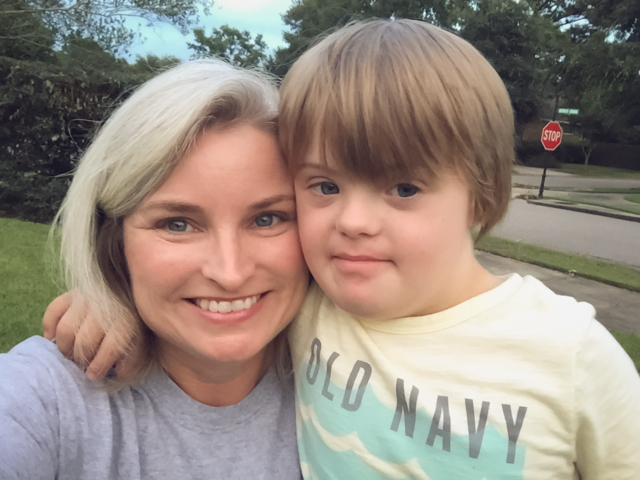 It may not be Festivus yet, but I'm feeling a need for an early Airing of Grievances. If you haven't had direct personal contact with Nathan, you're off the hook, but the rest of you – teachers who smiled and laughed at him when he ran through the hall at school, the lady working the register at Target who let him scan stuff and hand people their receipts, the umpire who didn't call him out because he "should" have made it to third base safely but didn't because he stood on second base for an eternity, and the man at the gym who grabbed his hand and ran with him on the track?
I'm talking to YOU.
I get it. He's cute. He's funny. His smile is infectious. He gives fantastic hugs. He has a way of making you feel like the most special person in the world. But you are creating a monster.
The Target Lady: A Case Study
Several weeks ago, Nathan and I were in Target. It was fairly early in the morning and the store wasn't very busy. The very sweet lady at the register smiled at him and when he tried to squeeze his way into her workspace, she let him. He helped her scan items and handed me my receipt, and she opened the drawer where the stickers are kept and let him pick one (or twelve). He was having so much fun he didn't want to leave! But we did.
The next time we went to Target it was busier, with more registers open and more customers trying to check out. Nathan promptly joined one of the ladies in her workspace behind the register, opened the sticker drawer, and reached for…pretty much everything. This Target lady was less friendly and more bewildered. I apologized for him and got out of there as quickly as possible, which is to say…not very quickly because once again, he didn't want to leave.
Not long after, we went to Sam's Club. While we were waiting for the customer in front of us to complete her purchase, Nathan ran around and jumped between the employee and the cash register. Like the first Target lady, she was amenable to having a "helper" and I hung back and hoped for the best while simultaneously evaluating what the best course of action to produce the least amount of ruckus would be.
What I didn't anticipate was the customer paying in cash, which meant the cash drawer opened right at Nathan's eye level. The employee asked him to step back just as I darted around to extricate him from the situation. His motto is YOLO, so I bet you can guess what happened next: he stuck both hands in the drawer and FLUNG. Coins went flying everywhere. I grabbed him by the hand and walked him back around to our cart, my head hung down in shame.
All thanks to the sweet lady at Target.
The truth is that I've known how these things would go for a long time. Early on I would let things slide or laugh at things I knew I shouldn't. I mean…he's Just! So! Cute! and he does everything with wild abandon and a joy of spirit that's irresistible. If his own momma can't resist his charms, no one can, amiright?
But for the sake of my sanity, I want you to try.