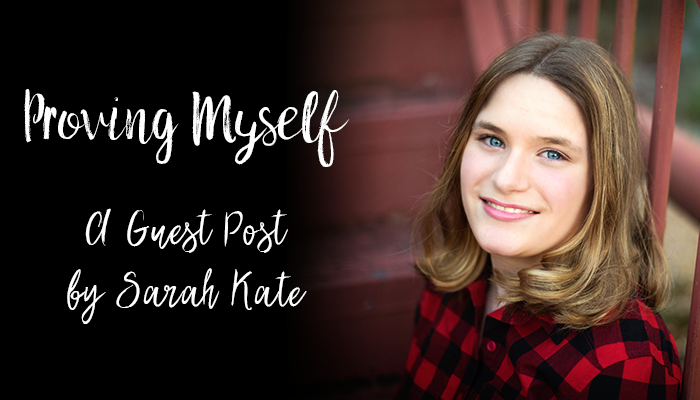 On Saturday afternoon, I was invited to participate as a guest on Special Chronicles, a podcast by my mom's friend Dan Smrokowski. The aim of Special Chronicles is to "give respect and a voice to those with special needs." When I was asked to join him, I was more than overjoyed. I'd like to start my own blog some day, but until then I'll be writing guest posts here about my personal experiences with a disability. Like I told Dan the other day in the interview, having cerebral palsy means people underestimate me, and I need to constantly prove to people there is more to me than meets the eye.
Through second and sixth grade, I wore colorful socks and decorated my braces with bright colors and patterns. Now I am in middle school and people are a little less welcoming to things like that. I don't just want to be known as "the girl who's shy and walks weird." I want to be "that girl who's really fun to hang out with." I try to participate in as many sports as my body can take, and people will notice me for simple things like running races. But noticing me isn't enough.
I need them to see that I am more capable and independent than they realize. The sooner they realize this, the more my disability fades away.
Because people tended to jump to conclusions about me, my abilities, and how other people's actions (like staring!) affected me, as I got older, I put up walls against people and was afraid to make friends. My mom noticed this, so now I've tried opening up to people and showing them how I'm not an armored, unfriendly turtle, but an awkward, bubbly, sensitive teenager. My friends know this about me, and if I fall, I'll be laughing right alongside them, and we have some inside jokes about our "favorite fall." I don't like people to pity me – if there's one thing I hate, it's pity. My life is not miserable, and I can adapt in difficult situations. But once again, people assume I am a broken toy that needs fixing, and they don't realize that if I need help, I will ask for it (and they don't need to force "help" on me).
Typical people – especially kids and teens – often don't understand what it's like to always have to claw your way out of difficult situations and stand up for what's fair.
Several people in my life have taken advantage of my disability because it made them look good or so they could bend the rules at school. I won't name any names, but my peers, selfish "friends", and even adults have been among them. I am not "shy" and "pitiful", and if I need to speak my mind, I will. And if I have to scream and fight to be heard, so be it. A lot of people my age are afraid to argue against bullies and what they know is wrong, because of their fear of threats and consequences.
That's one thing cerebral palsy does for you – it's definitely a pain in the rear end, but it toughens you, and destroys any fear you have of the future.
As well as helping me be more relaxed and self confident, my cerebral palsy gives me an outsider's perspective on how pointless it is to be a "cookie cutter teen." What I mean by that is how so many of my peers try to be just look everyone else so they will fit in. Instead of aiming for conformity, I want to be a tulip in a field of roses. Besides, if everyone was the same perfect gingerbread girl or boy afraid of speaking their mind, how would people like President Abraham Lincoln and Martin Luther King Jr. have made the world a better place?
Yes, I have flaws, but my flaws are what make me unique.