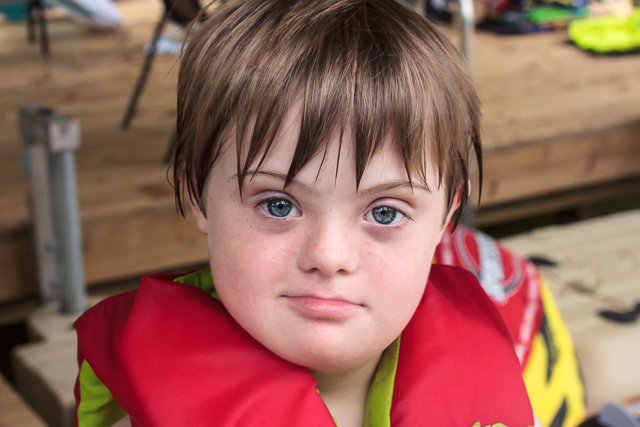 This jaunty fellow? Still can't swim.
In 2015, he took group swim lessons. The teacher – a wonderful, experienced swim instructor who has worked with many individuals with special needs over the years – felt at the time that he was making progress and encouraged us to keep working with him. The same lady taught Sarah Kate to swim at age six, despite her limitations, so we figured he just wasn't quite ready.
In 2016, he took private lessons from the same lady. At the end of two weeks, she encouraged us to keep working with him because he was this close.
Now, in 2017, he does everything he's supposed to do to be able to swim. He isn't afraid. He goes completely underwater – with his eyes wide open and a smile on his face, no less. He kicks his legs and moves his arms. He still sinks like a rock (albeit like a small rock, which is an improvement over sinking like a boulder last summer). 
Swimming is apparently going to be another one of the many things that he'll figure out on his own timetable. In the meantime, I'm a nervous wreck whenever he's near water.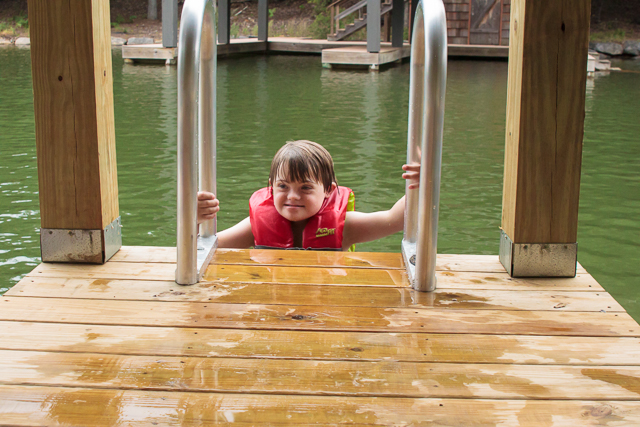 The boy is absolutely fearless.
This past weekend we visited my sister and her family at their house on Lake Martin in central Alabama. Their dock is in a quiet cove, so it was perfect for swimming and jumping and generally not having to worry about boat or jet ski traffic. I took Nathan's kayaking life jacket along and he spent the better part of two days jumping off the dock – he did it so much his arms got chapped from rubbing the sides of the life jacket.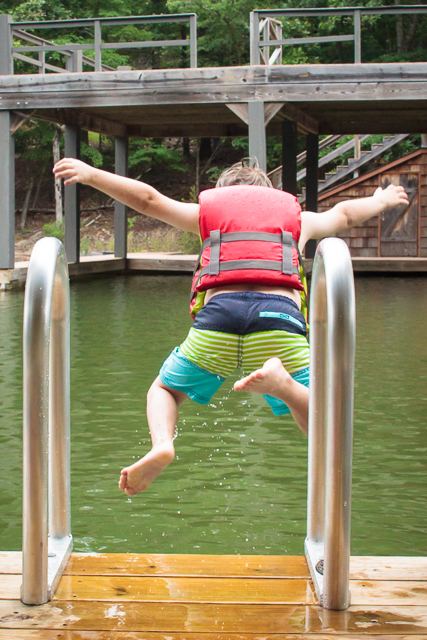 If you follow me on Instagram or saw Monday's post you've already seen photos of him leaping off the end of the dock – both of the previous shots are different from the one below. I ended up deleting dozens just because there were so many.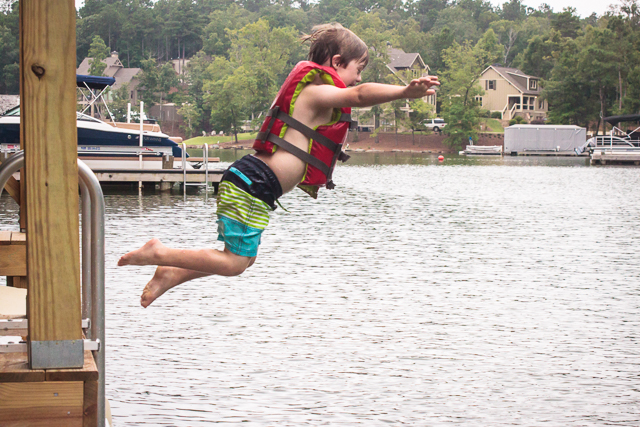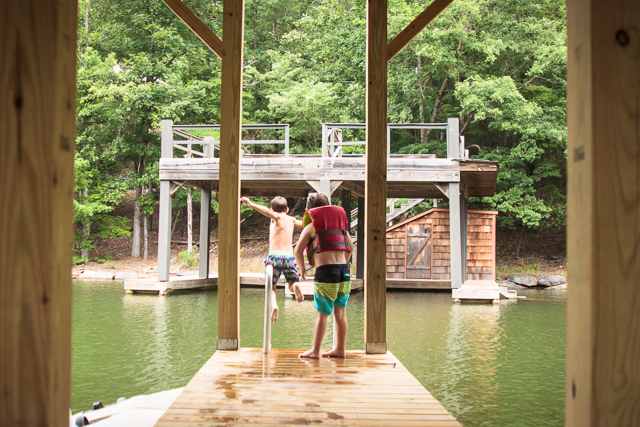 Of course, he wasn't the only one who jumped off the dock – the youngest cousin, Caroline, was almost as enthusiastic as Nathan.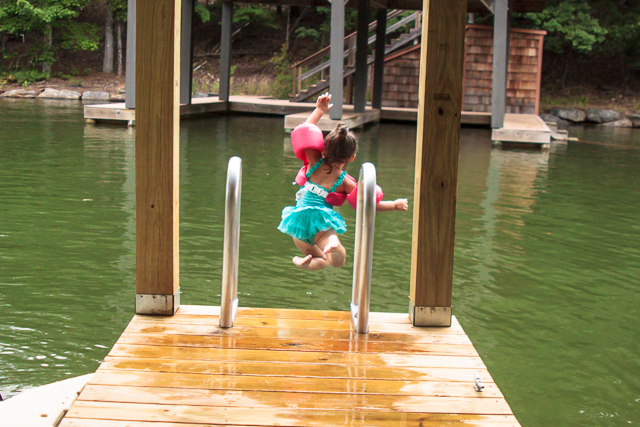 My nephew Jon David took things a step further by launching himself repeatedly off the upper level of the dock. Sarah Kate considered it for about five seconds and then made her way back down the steps. Nathan also contemplated it but opted out after a persuasive conversation with me about how scary it was. I'm not sure he was wholly convinced.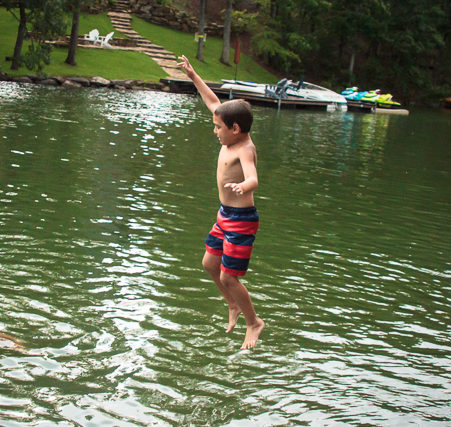 Sarah Kate rode with Uncle Jonathan and my niece, Caroline, on the jet ski, and then stepped up her game later by going tubing, as well – a first for her.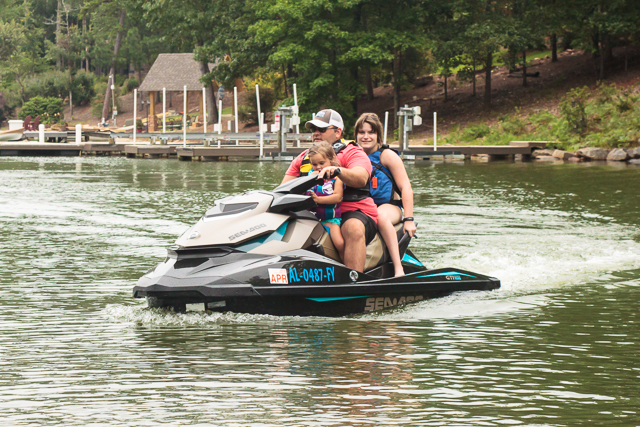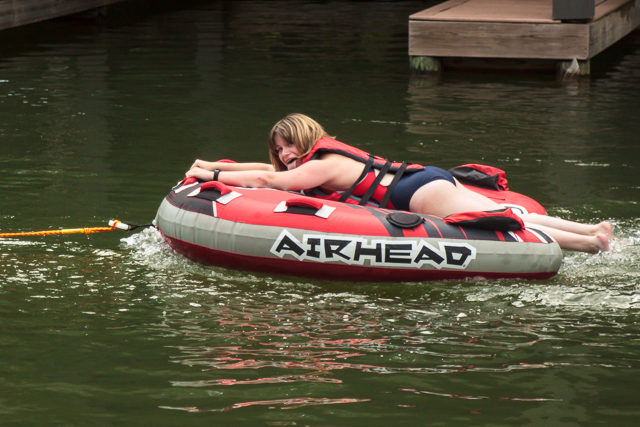 The kids were all well and fully waterlogged – my niece Emily isn't pictured because she had developed swimmer's ear and couldn't join us.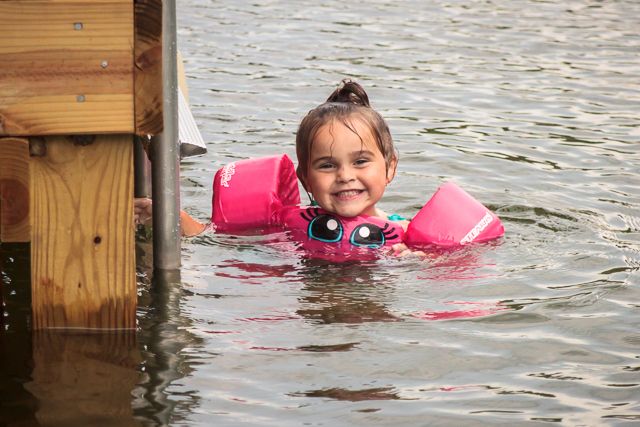 For those inclined to a more relaxed, quiet ride, a kayak was available. My sister and my stepdad took it out, as did she and I. I have to admit – now that I have my own (new last season) kayak I'm a little bit of a kayaking snob. Mine is fast and light and comfortable to sit in and I love it. 😉 But mine was at home and this one was on the dock, so…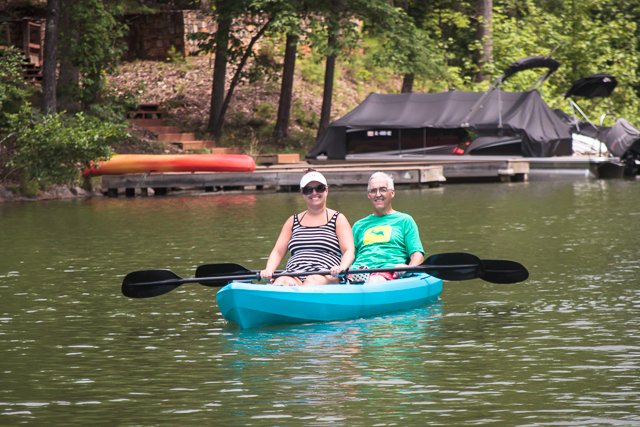 And of course dogs love weekends, too, you know. Although Lexi was not so fond of being plopped into the water so one of the kids decided to make it up to her by wrapping her in cushy towels. She didn't mind that part so much.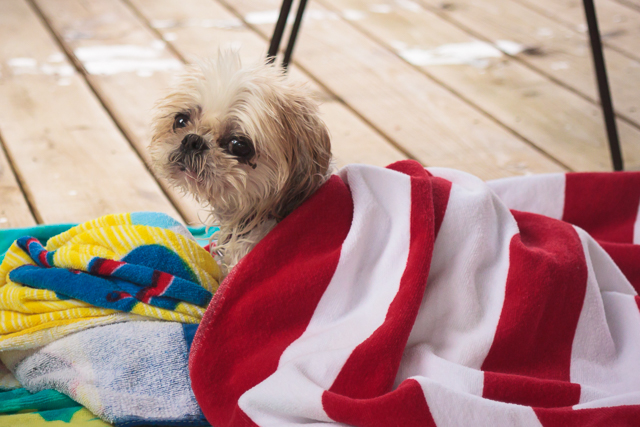 But of course the pinnacle of the entire weekend, from the perspective of a certain non-swimming young boy, was getting to "drive" the jet ski with Uncle Jonathan.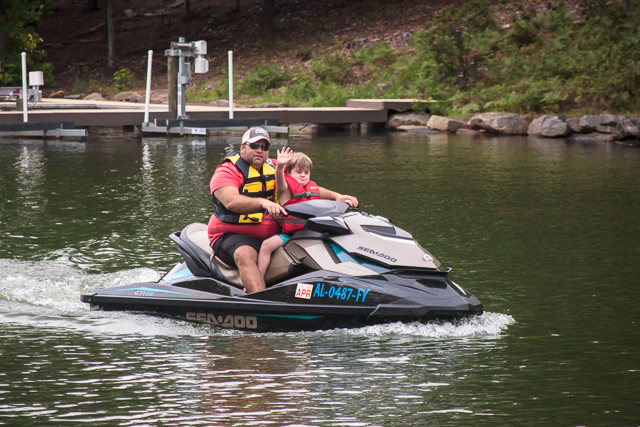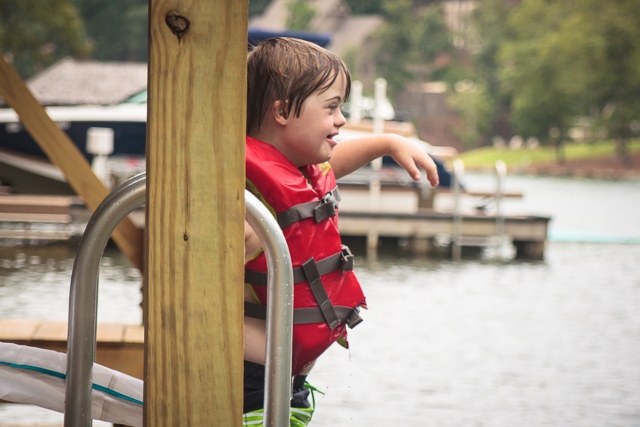 Happy Thursday!