Sarah Kate has found her niche: theater.
She got her "big break" when she was cast last fall in James and the Giant Peach JR. with Eastern Shore Repertory Theatre (ESRT). James was followed by Disney's The Little Mermaid, next week she'll begin a summer camp production of Schoolhouse Rock Live! JR., this week she submitted audition video for ESRT's "travel team" for Junior Theater Festival, the world's largest festival celebrating musical theater for young people, and in August she'll audition for the fall production, Peter Pan, JR. Whew! To say she's "all in" would be an understatement.
Of course, musical theater is tough for a kid whose movements are restricted. Her dream is to play the role of Tiger Lily, but the casting info specifically calls for a "good actor, singer and mover". Two out of three ain't bad, but it also isn't enough. To her credit, though, Sarah Kate embraces the mantra that there are "no small parts, only small actors" and puts her whole being into her characters – she created an entire backstory for her seagull, despite having no spoken lines, and she never broke character once.
Last month, she had an amazing opportunity.
ESRT hosted iTheatrics' Director of Education Marty Johnson to lead an intensive theater workshop of the brand new show, Heathers the Musical (High School Edition). The show is so new, in fact, that the world premiere was held a week after Johnson's workshop. Heathers (High School Edition) is a revised version of the popular-but-racy musical Heathers which itself was based on the 1988 cult classic (and R-rated) film of the same name, and Johnson worked closely with the writers/composers of the original musical to remake it for a teenage audience. If you aren't familiar with the original movie or musical, think "Mean Girls" but much, much darker, with not only bullying and cliques, but also the added themes of murder and suicide.
I'm not gonna lie – I was concerned about the content.
I saw the original movie when I was in college, and rewatched it on Netflix when I learned about the workshop (it was actually much worse than I remembered). It was difficult for me to imagine how the story could be revised into something appropriate for my fourteen year old daughter. I wasn't alone, either – others who were considering the workshop opted out due to concerns about the content, and even among those who stayed in, there was a lot of anxious chatter in the weeks leading up to the workshop.
Ultimately, I felt it was an opportunity for Sarah Kate that would be difficult to pass up, so she enrolled.
The cast included about 30 students – from rising 9th graders up to college sophomores – from several different theater companies and at least three states (one student came all the way from Columbus, Ohio!) Although everyone who enrolled was, by default, cast in the show, auditions were still held. In May, Marty came to town to do a mini-workshop for the younger kids, hold auditions for Heathers, and attend Mermaid. Sarah Kate was cast as Officer Milner and as a nerd in the ensemble. She received her script and musical tracks in advance, and the workshop began on Monday, June 12.
The cast worked from 9:00 am to 5:00 pm every day that week and performed on Friday and Saturday evening. They had costumes, with each actor was responsible for his own, and limited sets and props, and despite working in a state-of-the-art facility, Marty opted not to use the sound system because he wanted them to learn how to project without microphones. Even with those limitations, the show truly blew me away, and in the end I didn't regret letting Sarah Kate participate, despite the unsavory content.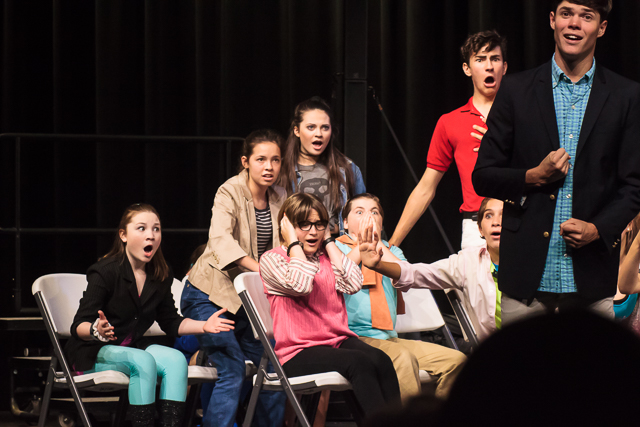 Sarah Kate had one spoken line and, in addition to the ensemble numbers, performed another song as Officer Milner as part of a small ensemble. She put everything she had into both her Officer Milner and nerd characters, and fell more deeply in love with theater, if that's possible. I long ago stopped worrying about Sarah Kate being fully included with ESRT, but Heathers 101 was a different director who didn't know her (and a lot of unfamiliar kids to boot). Would theater truly be for everyone outside the ESRT bubble?
Before the first performance on Friday night, Marty had the cast gather around in circle and asked each of them to use one word to describe how they were feeling.
Sarah Kate's word was "equal."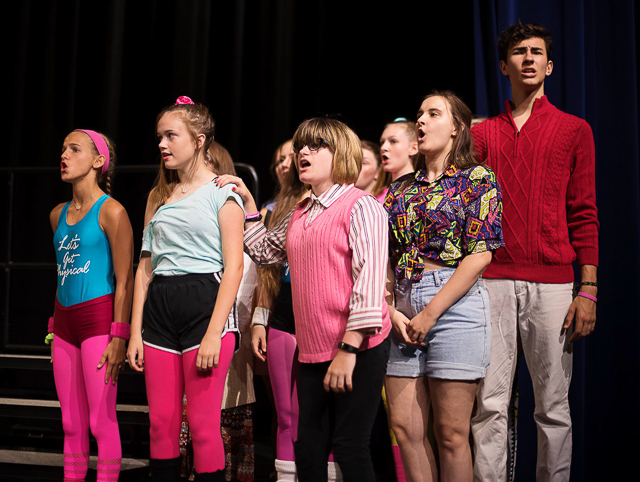 ---
A Note About the Show's Content: I'm not going to sugarcoat the material and say it was no big deal. As a committed Catholic and parent of a teenager, parts of it made me squirm, though it was less offensive than the original movie (the changes to the storyline were an improvement over the film, as well). Mr. Andi and I went on different nights so that we didn't have to take Nathan. From a personal standpoint, I found the show quite enjoyable – simultaneously ridiculous and profound, and it brought back to me the challenges of being a teenager in our culture.
Sarah Kate and I discussed the content on several occasions, and we agreed that participating in the show had worth not just as an educational opportunity for her, but also because it explored important themes that teenagers face, and because the overarching message of the show was valuable. Veronica, the protagonist, was trapped after a series of bad choices, but was still able to turn things around in the end; the catalyst for all her bad choices, J.D., didn't allow himself to do the same, and it destroyed him. Those are concepts firmly rooted in our Catholic faith, even though the presentation may have at times made us a little squeamish.