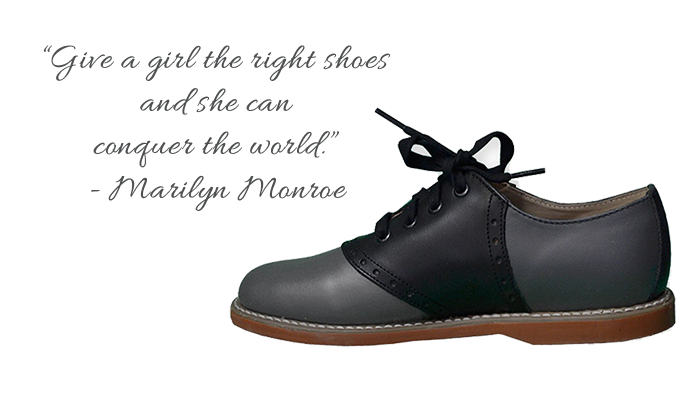 I am not kidding when I say that shoe shopping for Sarah Kate is the bane of my existence (and now "our" existence since she's old enough to be heavily involved in the process). It's not the biggest challenge of cerebral palsy, but it has been the most consistent point of irritation for lo, these fourteen years.
Sarah Kate has always had to wear a uniform to school, but in public school any variation of athletic-style shoe was acceptable. For a few years in elementary school she was granted a variance to wear Crocs, but in those days she didn't much care what her shoes looked like, and once she did start caring we always had Chuck Taylors to fall back on. She didn't have many options for dress shoes, but when it was important to wear dress shoes she would just skip the braces that day.
Once her brace-covered foot reached adult-shoe sizes, things went downhill. It was the perfect storm of teenager who now cares what her shoes look like combined with fewer options than were available in children's shoes (which were pretty limited already). You can catch up on the challenges of adult-sized shoes here. In short, we thanked God on the regular for Converse, but now we have a new shoe-nemesis:
The saddle oxford.
Sarah Kate is moving to a private Catholic high school this year; she'll wear a white oxford shirt monogrammed with the school logo, a plaid skort, white socks, and gray/black saddle shoes. We bought her uniforms – including shoes – on early bird special back in the late spring. She spent most of the last school year out of braces while we tried to figure out what would work for her, so the shoes we bought then fit her foot sans brace. The good news is that she now has some new "phat braces" that are working GREAT. The bad news is that there was no way they were going into those size 5.5 shoes we bought a few months ago.
The even worse news was they wouldn't go into the 7.5 EE-width shoes they had in the store, either. We got them into the size 8.5 EE, but that's three full sizes bigger than her foot so they looked like clown shoes (never mind that she would be more likely to trip, as well). I emailed the school and they told me to just find something as close as possible and they would grant her a variance, so off to the Shoe Megastore (not it's real name) we went. For reference, here's what we needed to try to match:
I covered every square inch of the Shoe Megastore multiple times, and at one point began to believe I was being watched by the store employees and a security guard (not kidding!) I found exactly ONE pair of shoes that sorta-kinda resembled the oxford shoe (but not really), and the 7.5 fit, but it was only available in a puzzle-piece design that I'm sure is fantastic for a pediatric nurse or therapist but not so great for a teenager in Catholic school.
But Hallelujah! I pulled up my phone and found an all black version on Zappos.com (Only 6 left in stock! Order soon!) and ordered them on the spot while sitting on the floor of the Shoe Megastore (or, to be more precise, Sarah Kate ordered them for me because I had left my reading glasses at home and couldn't see to place the order myself). I'm sure I did not appear at all suspicious to the security guard and store employees who were already watching me.
Sarah Kate was sorta-kinda satisfied, but I wouldn't say she was happy, because she wanted to wear the same shoes the other girls would be wearing. We drove home and reported our results to Mr. Andi, who had come up with an alternate idea while we were gone: having the shoes stretched. So off I went again, first to the shoe hospital to inquire about shoe stretching, then to the uniform store to examine, contemplate, consider, and finally purchase the 7.5 EE shoes, then back to the shoe hospital to drop them off and explicitly request that ONLY the width of the shoes be stretched. I said a little prayer, crossed my fingers, and hoped for the best, then called Zappos and was pleased to learn that I could cancel the order since the shoes hadn't shipped yet. The planets were aligning!
Two days later, Sarah Kate and I went back to the shoe hospital with her braces and she sat down on a bench for the Moment of Truth. The Shoes Went On! It was a little bit rough going in the beginning getting the heel of the brace into the heel of the shoe, but we did it. The best part is that the stretching of the shoes ONLY COST SIX DOLLARS. I know that seems like a minor point in the grand scheme of things, but finding a disability modification I can cover with a $10 bill and even get change back is like spotting a unicorn.
The next challenge was going to be figuring out how to get the newly-stretched shoes on and off without my help during P.E. each day. Enter this snazzy little guy:
This metallic hunk of love enables Sarah Kate to get her saddle oxfords on and off with very little effort and will be her constant companion in the locker room. He's even sporting some school spirit in his "Cardinal Red" uniform and to us he is almost as beautiful as a shiny new candy apple red sports car. NO shoes that don't match everyone else's shoes. NO needing anyone else's help to get dressed. NO tripping over her own feet in the hallways (though it's a given she'll trip for other reasons).
It's just a little thing, but it's a start.