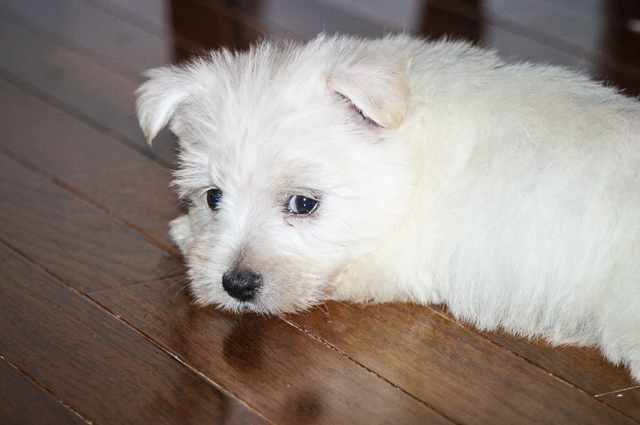 If 2017 has a theme, it will be "Waiting for the Other Shoe to Drop."
Our challenges this year have ranged from the scary (my dad was diagnosed with a grade 4 glioblastoma brain tumor) to the annoying (dropped a glass on my electric cooktop and shattered it – a replacement will cost almost as much as a new range) to the frustrating (Nathan was dropped from a previously-promised after school speech therapy time slot – that one I fought and won!). In late August, I told my mom that spiritual warfare was real, and that I was waging it, and I was not feeling like I was going to prevail but I was determined not to be defeated.
The other shoe dropped in early October.
Just before Hurricane Nate swept through Mayberry, my westie, Daisy, stopped eating. At first the vet thought it was pancreatitis, a potentially serious but treatable disease. When she didn't improve as expected, the vet looked deeper and found lymphoma. Chemo wasn't a good option for her, so I brought Daisy home on palliative care for a long goodbye that was much too short.
Daisy's terminal diagnosis came on October 11 – exactly one week after the feast day of St. Francis of Assisi – and she died three weeks later, on All Saints' Day. We made the most of those last three weeks. We hung out at the end of the pier (no dogs allowed!), went to a t-ball game and a cross country meet, borrowed my neighbor's pet stroller so we could continue long daily walks, made new terrier friends, went through a car wash, had coffee out with friends, ate ice cream, and watched the sun set over Mobile Bay.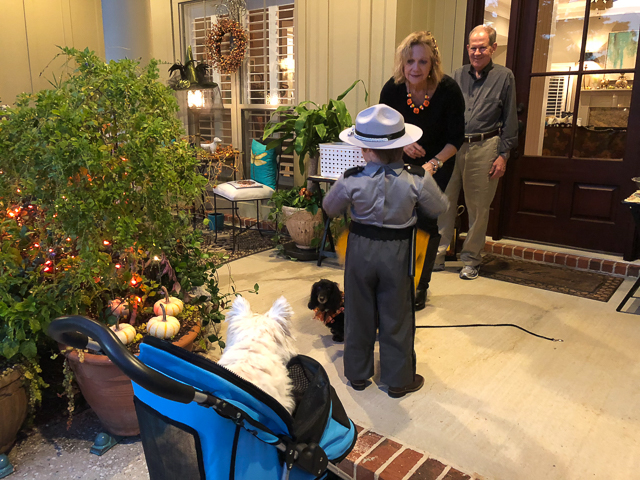 On Halloween, Daisy was struggling. I didn't want to ruin the day for the kids, so I texted our vet and she told me to up Daisy's steroids and pain medication, and I tentatively scheduled the final appointment for the next day. That night, Daisy trick-or-treated with "Officer Sligh" as his K-9 officer using the borrowed stroller – she loved it but it wore her out. I got up during the night to give her more pain medication and knew in my heart that the time had come. I didn't tell the kids when I dropped them off at school, but Sarah Kate knew that time was short when she got out of the car and told Daisy goodbye.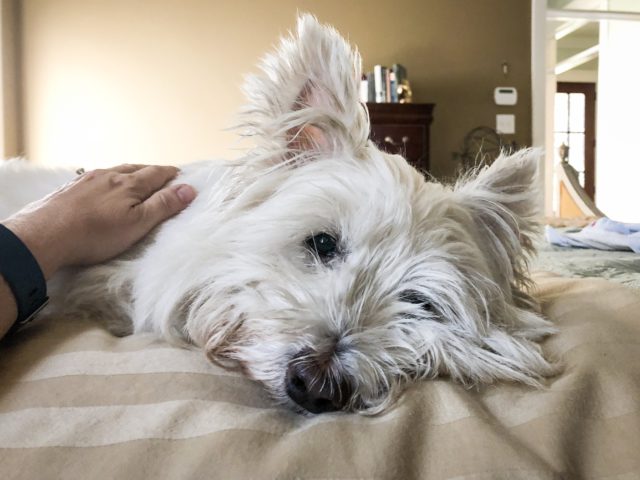 On the morning she died, I took Daisy for a stroll around the neighborhood, then took her back home and placed her on my bed. I sat on the floor next to her and told her all of the things I wanted her to know before she left us – how much I loved her and all of the wonderful things about her – and I thanked her for being my buddy all these years. After that, we drove down to the bay and sat on a picnic table near the duck pond. My friend Dawn, who is a relief veterinarian and friend of our vet, met us at the clinic and stayed with us the whole time. It was beautiful and agonizing and brutal and special and so difficult at every turn. But I felt then, and still do, that I chose the best time – and the best circumstances – to say goodbye.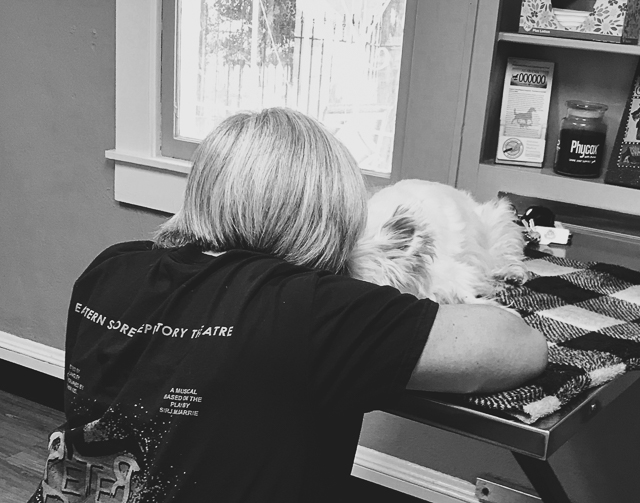 Some people say their dogs are like their children, but I disagree.
I view my relationship with Daisy as much more analogous to man's relationship with God. She wanted to be close to me, waited patiently for me, forgave me for everything whether I deserved it or not, protected me, accepted all of my faults, and loved me unconditionally. She was by my side in good times and in bad, through every storm and every celebration. In her own way, Daisy revealed the nature of God to me.
This revelation of God's nature was a beautiful gift, but it's a gift that came with great responsibility. To honor the gift of Daisy's love, it was my duty to usher her out of this world in a way that was worthy of the gift I'd received. Driving to the clinic and carrying her inside for the last time was one of the most difficult things I've ever had to do. It was a fierce battle: my own selfish desire to keep her with me fighting against what I knew was right for her. But when I first received her prognosis I resolved to do what was best for her at every turn; after years of being the recipient of a love that mirrored the love of God, I was able to give that same love back to her at the end. She trusted me completely, and I did my best for her.
I don't know if we will be able to see our beloved Daisy again.
Some say that dogs can't go to heaven because they can't accept God like humans can. Of course, dogs also can't reject God, so perhaps they will be reunited with us. Our family prefers to believe that we'll see her again, and in keeping with that philosophy I let my friend Dawn give a copy of Dog Heaven to Nathan to help him understand why she isn't here with us anymore. Regardless of what God's plan is for Daisy in the afterlife, spending ten years here on earth with her was worth the pain of losing her.
Dogs are not people. They are both more than and less than, and that is a good thing.
---