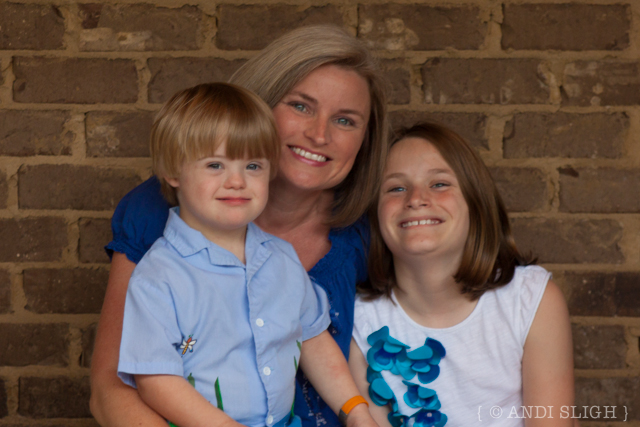 Approximately one in 300 children have cerebral palsy. Approximately one in 700 are born with Down syndrome. Triploid syndrome occurs in about one percent of all conceptions. The odds of one woman having a child with cerebral palsy, one with Down syndrome, and one with triploidy? About one in 21 million.
But it happened. To me.
My first child, a daughter, was stillborn at twenty weeks in 1999 due to triploid syndrome. My daughter, Sarah Kate, was born in December of 2002, ten weeks early, and has the spastic diplegia form of cerebral palsy. My son, Nathan, was born in March of 2010 with mosaic Down syndrome.
I'm an ordinary mom with an extraordinary life.
I write about our children, our family life, our pets, our faith, photography, cerebral palsy, Down syndrome, and other things that interest me, excite me, or frustrate me. On occasion, a guest post will appear from Sarah Kate or my husband, who you'll get to know as Mr. Andi.
We live in paradise in a small town along the gulf coast of Alabama – I call it Mayberry. Our life is ordinary – we watch TV, play games, read books, clean house, and all of the other things that most ordinary families do. We also go to therapy sessions, participate in IEPs, haggle with our health insurance company, and use a disability hangtag, which most ordinary families don't do.
Meet Us, In Five Words and a Few Posts:
Sarah Kate
self-assured, insightful, determined, witty, empathetic
Her Birth Story  |  Her Most Recent Triumph  |  Our Experience With Selective Dorsal Rhizotomy  |  Opening Day: Softball  |  Sarah Kate Blogs
Nathan
gleeful, uninhibited, clever, affectionate, energetic
His Birth Story  | TOTS Soccer: Splendor in the Grass  |  DS, ADHD, or B-O-Y?  |  The Myth of the Fenced Backyard  |  Nathan, the Very Worst Brother
Mr. Andi
enterprising, impetuous, adventurous, entertaining, active
Mr. Andi Day  |  The Faithful Departed  |  The Duck Dynasty/Special Needs Life  |  On Marriage and Garbage Disposals  |  Like Sister, Like Brother
Andi (Me!)
analytical, deliberate, cautious, low-key, even-tempered { -OR- } the opposite of Mr. Andi